To the bottom of the top of the world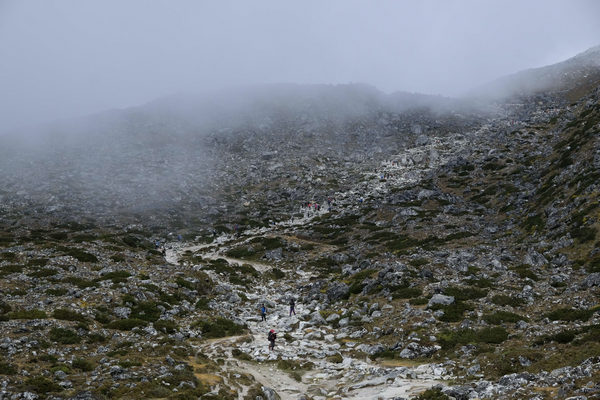 [Photo provided to China Daily]
Day 3-Day 7
Over the next three days, we ascended more than 1,000 meters through charming villages, beautiful forested areas and mist-covered switchbacks. While most parts of the route are not as steep as the climb from Phakding to Namche Bazaar, there are still challenging inclines that leave one utterly winded, especially at areas past 4,000 meters where the air is considerably thinner.
On Day 6, we reached Duhgla (4,600 meters) where the color of the landscape from here forth shifts from different hues of green to grey and white. But the scenery was no less gorgeous. We were now surrounded by majestic snowcapped mountains and clear blue skies. Swathes of the arid rocky terrain made me feel as if I was an astronaut walking on the moon.
The guesthouse we stayed in was threadbare. In fact, the room looked no different from a prison cell. It was extremely cold during the night and my wife, despite wearing four layers of clothing, had to tuck herself into a minus 20 C sleeping bag to stay warm. We were thankful for daybreak because it meant we could depart for the next destination, Lobuche (4,940 meters).
As we had lunch at our lodge in Lobuche, we heard the steady rumble of a helicopter's rotors as it approached a nearby landing zone.
"Goods delivery?" I asked Thapa.
"No. Helicopters that land here are almost always used to evacuate people who are suffering from altitude sickness," he replied.
"We're still feeling pretty good. I hope there won't be a need for us to get into one of those helicopters," I laughed.
The altitude medication seemed to be working well on us. Apart from mild headaches that quickly went away, we were feeling fine. I quietly hoped that no ailments would manifest themselves past 5,000 meters.