To the bottom of the top of the world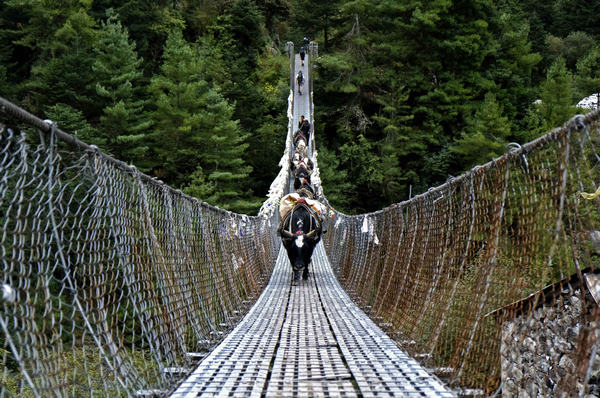 Yaks on a suspension bridge. [Photo by Alywin Chew/China Daily]
Day 1
While standing in queue at the airport in Kathmandu, I tried to empty my mind of the images of Lukla's short runway, the rickety propeller planes and the heavy fog that envelops the mountains around the airport.
To my relief, our Summit Air plane was a relatively new model and more spacious than those of other airliners that looked like flimsy tin cans. Take-off was smooth and the 30-minute flight was hardly harrowing. Landing was, surprisingly, even smoother. When the plane came to a complete stop on the tarmac, all the passengers clapped as if we had just avoided certain death.
We soon met our porter Purna who quickly bundled our duffel bags before strapping the load to his head. I shuddered at the thought of him snapping his neck during our trek-he was carrying slightly over 30 kilograms. My backpack, in comparison, weighed only 5 kg.
But there was really no need for a sea-level dweller like me to worry about a Nepalese porter who is well-accustomed to high altitudes-he actually reached our destination far ahead of us.
The first guesthouse we stayed at was located in the cosy enclave of Phakding. Though the travel agency stipulated in the itinerary that the trek would take about three hours, we completed the journey in just under two hours.
I told Thapa that we should have perhaps shortened the trip by covering more ground each day. He laughed.
"Tomorrow, my friend. Tomorrow will be the toughest day of the whole trip. Rest well now," he quips.
He wasn't joking.