The ups and downs of life after politics for former leaders
Bill Clinton
No former US president has enjoyed more publicity than Bill Clinton.
As a formidable speaker, Bill Clinton has turned his global popularity into a money-spinner.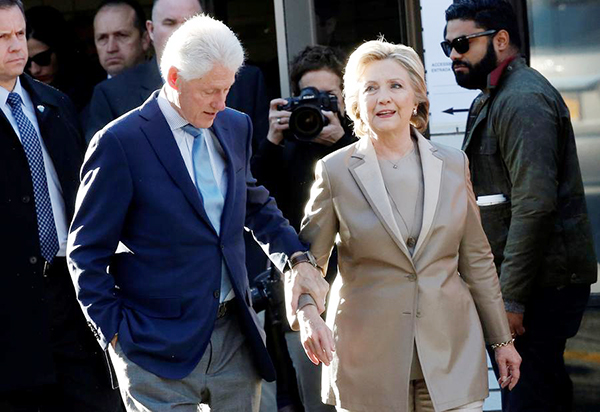 Then Democratic US presidential nominee Hillary Clinton and her husband, former US president Bill Clinton, depart after voting in the election at the Grafflin Elementary School in Chappaqua, New York on Nov 8, 2016. [Photo/Agencies]
He has been paid $104.9 million for 542 speeches around the world between January 2001, when he exited the Oval Office, and January 2013, when Hillary stepped down as secretary of state, according to the Washington Post. CNN reported in early 2016 that the Clintons were paid $153.7 million for speeches they gave between 2001 and 2015.
Fortune estimated the Clinton family's assets at $50 million, a tremendous boost from their "dead broke" financial status when the former first family left the White House.
Bill Clinton has also been endorsing his wife throughout two of her presidential campaign in 2008 and 2016 respectively.