Hip-hop hero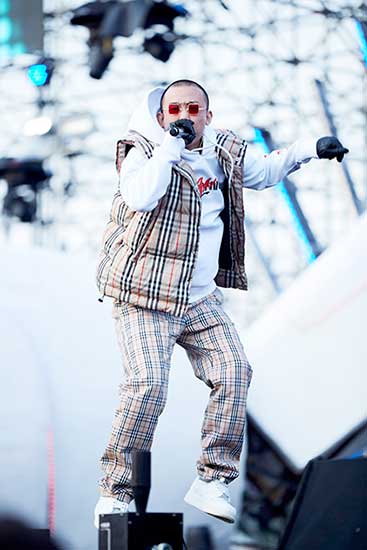 Gai and other rappers announce they will launch a tour in December.[Photo by Zou Hong/China Daily]
"Everything happened so fast. One of the biggest changes in my life is that I don't have to worry about money again," says Gai, who graduated from a vocational school and fell in love with music at the age of 18. Now, he has about 2.5 million followers on the Chinese micro blog Sina Weibo.
As a bar singer in Chongqing, he used to make about 200 yuan ($30) a night. The job was not stable and he felt guilty that he couldn't help support his parents as the only son in the family.
"Now, I can proudly give money to my parents and tell them that they don't have to save money for me because I can send them more," he says with a smile.
Sitting in a music studio in Beijing, Gai, who is dressed in an oversized red hoodie and a pair of white pants, appears humble and polite-very different from the rebellious and outspoken impression he left on the audience from The Rap of China.
On the reality show, Gai, rapping in the Sichuan dialect, confidently announced that he would win and that he was not afraid of any of his competitors.
The songs he performed on the show, such as Kong Cheng Ji ("ruse of the empty city"), which borrows its name from a well-known Peking Opera play, and Huo Guo Di Liao ("hotpot broth"), combine elements of traditional Chinese culture with hip-hop, and won him a large fan base.