Poetic tribute to farmers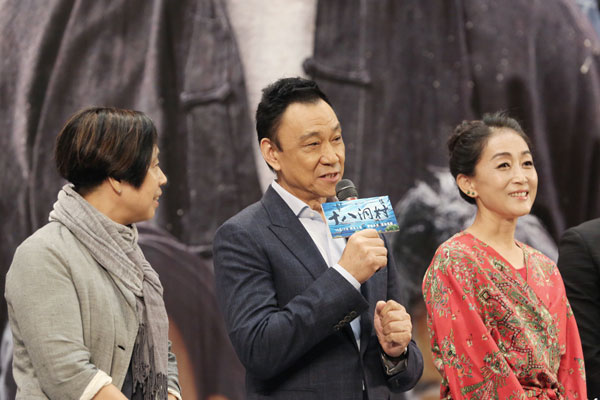 (From left) Director Miao Yue, actor Wang Xueqi, who plays a lead role, and actress Chen Jin at a promotional event in Beijing. [Photo provided to China Daily]
Veteran actress Chen Jin, known for Feng Xiaogang's 2010 movie Aftershock, plays a role based on the grandmother's accounts.
The boy is presented as a 5-year-old girl in the movie.
Speaking about his role, Wang, known for playing the Peking Opera master Shisan Yan in Forever Enthralled (2008) and the patriotic tycoon Li Yutang in Bodyguards and Assassins (2009), says this is the first time he has played a farmer in his career spanning more than 30 years.
At a promotional event last week, Wang said he was enthralled by the picturesque scenery, the fresh food and the raw rural life during the filming.
"It's a beautiful village full of emotional stories. The movie gave me an opportunity to learn about a life that I've never known," he says.
The movie has so far earned nearly 10.5 million yuan at the box office, and won acclaim from critics and viewers.
While Sun Xianghui, head of the China Film Archive, says the movie is a poetic tribute to Chinese farmers, Hu Zhifeng, a professor from Beijing Normal University, says the movie depicts an optimistic spirit that resonates with audiences.
Contact the writer at xufan@chinadaily.com.cn