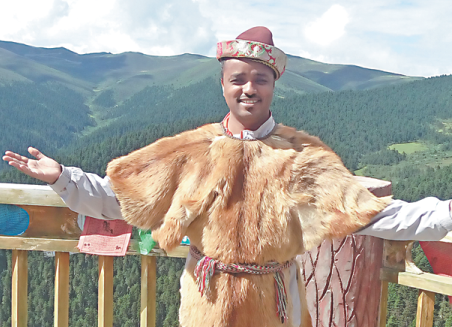 Zekarias Woldemariam visits a folk village in the Tibet autonomous region.
Numerous wonders spark a lifelong interest
ZEKARIAS WOLDEMARIAM
My nine-month stay in China seemed a brief sojourn. Although I missed my home and family, I felt enthusiastic about discovering new things.
I knew some significant facts about China before coming here, but the chance provided by the China Africa Press Center offered not only an in-depth revision of my knowledge, but also the discovery of numerous wonders.
Traveling to about 10 provinces has enlightened me a lot about this ancient civilization and its magnificent cultural heritage. But when I try to select the salient features of Chinese tradition that impressed me, the base line question that comes to my mind is: How did I manage to be here?
In answer, it is because I am a journalist. Just like fellow journalists, my work is published in a newspaper and, these days, on a website. My profession has taken me to the place that is considered the cradle of printing.
In Weifang, a city in eastern Shandong province, people used to print paintings with carved wood molds. They carved wood, smeared ink on each mold and then tapped them onto the paper.
The results were marvelous pictures depicting spiritual and cultural images. This method has been maintained for thousands of years. This is only one of the many fascinating things I experienced in China. In addition to the wonderful works of art, architecture and sculpture, the feature that impressed me most was the fact that this heritage has been well-preserved for such a long time.
Among examples are the magnificent deeds of Emperor Qin Shihuang (259-210 BC), who unified China more than 2,000 years ago. Apart from his historical work, the emperor is known for the thousands of Terracotta Warriors that were buried alongside him. When I visited his burial place in Xi'an, Shaanxi province, what struck me more than the sculptures was the strength of this visionary leader. I thought that, even though Emperor Qin died more than 2,000 years ago, he has continued to be a ruler, as the nation he left behind has maintained its territorial integrity, culture, religion and civilization.
Compared with the magnitude of its wonders, my journey to China can be taken as only a beginning. Exploring more about China will remain a lifelong interest.
The author is publications editor at the Government Communications Affairs Office.