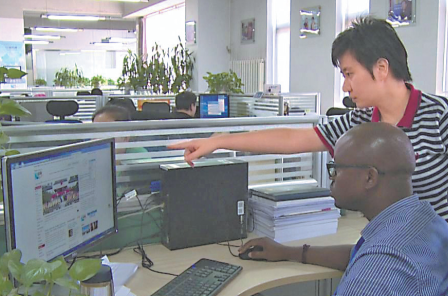 Paul Ntambara works during his internship at Xinhuanet.
Chinese media help to shape landscape
PAUL NTAMBARA
How time flies. It was just the other day that I was crisscrossing the plains, hills, mountains and deserts of China. Climbing the Badaling section of the Great Wall, in the words of the great Chairman Mao, made me a "real man". The trip to the ancient Huangling village in eastern Jiangxi province will forever be etched in my memory. I could go on.
Almost a year later, it is my experience with the Chinese media that has affected my worldview of the global media.
Chinese media and its influence has attracted fierce debate. Shortly after my stay in China, I was holed up in a postgraduate class in London discussing Chinese intervention in communication and development in Africa. Why the hullabaloo about Chinese media in Africa? What are Chinese media doing differently?
It is all about style.
While in China, I had an opportunity to listen to Professor Zhang Yanqiu, of the Communication University of China, present what she called "the constructive journalism paradigm that China embraces". It was a compelling argument.
She argued that the Chinese media and its engagement with Africa should be seen in a constructive journalism perspective (focus on one problem for a period of time to stimulate discourse that can lead to a solution).
"Constructive journalism is different from the simple Western 'watchdog' journalism. It is not the journalism of extremes of positive and negative reporting," she said. "What the Chinese media is doing in Africa is to construct and reconstruct, not deconstruct."
The core of her argument was that, under constructive journalism, the media empowers people; information can be used constructively while remaining accurate and critical where necessary.
From my experience, it is the interpretation of "positive reporting" that has put the Chinese and Western styles on a collision course. Michael Binyon, a journalist with The Times of London, said: "In Africa, as in all countries, coups, accidents, natural disasters, emergencies, political changes and other 'negative' items of news will always get attention. Any Chinese proposal to curtail such reporting would be ridiculous."
It is the approach in reporting on such "negative stories" that makes the difference. The Chinese approach has been more about reporting with a view to finding solutions to problems, while the Western style has done little in this regard.
What China has done is to create mutual understanding in its partnership with the African media. African journalists have been given voices to tell their own stories. Africa has been given a chance to objectively report about itself on the global stage using Chinese media outlets.
Let the debate continue.
The author is a reporter for the New Times in Rwanda and a master's student at the University of Westminster in London.