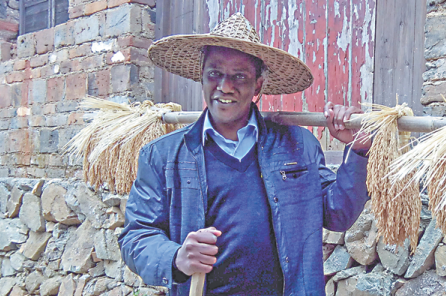 Abduel Elinaza visits the countryside in southern China.
The Web and the leaf offer lessons
ABDUEL ELINAZA
"No one realizes how beautiful it is to travel until he comes home and rests his head on his old, familiar pillow."
This quote from Chinese writer and inventor Lin Yutang (1895-1976) sums up my recent travels to China under the umbrella of the China Public Diplomacy Association. The benefits of the trip came after reporting back for duty in my native Tanzania.
Midway through the program, all nine participants, from various African countries, were placed for two months at various media organizations to allow us to get familiar with how they work.
I chose China.org.cn, simply because I wanted to try an online publication. I have been writing for the print media for some 20 years. The idea was to learn something new and useful to improve my newspaper's website, and I learned a lot by observing, writing and participating.
At the website, whose partners include China Daily, I also learned how they use combinations of pictures to tell a story. This adds value to online editions.
Immediately after I completed my six-week stint at china.org.cn, I filed a report to home on how my organization could improve the online operation using limited resources, especially human.
The report was well received, and a few months after my return I was appointed coordinator of the online edition.
Personally, I benefited a lot from learning about various ethnic Chinese cultures. We visited about 10 provinces. Among the places that attracted me most was Dali, in southwestern Yunnan province, on the shores of Erhai Lake. Other standout cities were Shanghai and Shenzhen.
I was attracted by Shanghai's Bund, a famed waterfront promenade lined with colonial-era buildings, while Shenzhen felt like a city in the middle of a forest.
I was also moved by the tea-drinking culture.
I went to a teahouse where people go not to drink, but to meet people. It was important for me to learn the culture of drinking tea without sugar.
To date, as I lie on my old pillow, I realize I have borrowed a leaf from China and take my tea without sugar.
The author is a financial journalist with the Daily News in Tanzania.