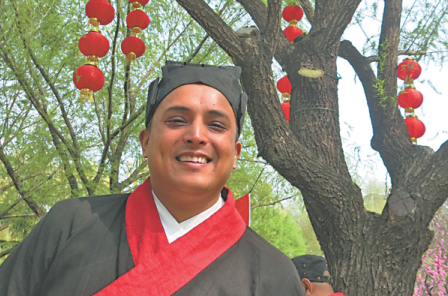 Yunus Kemp dresses in traditional Chinese clothing.
We have so much to teach each other
YUNUS KEMP
The China-Africa relationship will come into sharper focus this month at the 2015 Forum on China-Africa Cooperation in Johannesburg, to be co-hosted by President Xi Jinping and his South African counterpart, Jacob Zuma.
For African journalists who have lived in China for 10 months this year, it will be a fitting conclusion to an unforgettable professional and personal experience.
Through the China Africa Press Center, journalists from South Africa, Tunisia, Tanzania, the Republic of Congo, the Democratic Republic of Congo, Ethiopia, Angola, Mozambique, Nigeria and Egypt have been able to immerse themselves in China-the people, language, culture and political landscape. This center is a vital construct if we are to better understand each other, and for us to provide an authentic narrative of China and its people from firsthand accounts.
For all the trade and investment between the two regions, Africans and Chinese do not know much about each other, other than what is seen in tourist brochures or the cliched narratives continuously presented as factual reality.
Government policy may differ vastly from country to country, but one thing is universal for all people: We want better lives for ourselves and for our children. The Chinese are no different in this pursuit, and its government has plans to lift tens of millions more people out of poverty.
China's infrastructure development has been one of the most impressive aspects of a country regarded as a backwater just three or four decades ago.
And despite its expected economic slowdown, its burgeoning middle class means that China's financial state will still be in a healthier space than many other countries, given the current financial malaise elsewhere.
An example of the Chinese spending power was Singles Day, on Nov 11, when consumers spent $1 billion on online purchases in eight minutes, and $14.3 billion altogether on Alibaba's e-commerce sites. Another was Apple's recent record quarterly posting on the back of sales of the new iPhone 6 in China.
This all comes despite many economists predicting that China's contracting economy would trickle down to the tills and make people less inclined to spend on luxury goods.
As China-Africa relations deepen, it is vital that African and Chinese journalists tell the stories of these two great areas from a contextualized perspective. Both are growing, and with a combined population of 2.5 billion people it is a vital bloc that has much to offer each other and the world.
There is an old African proverb that goes something like: "A wise man never knows all. Only fools know everything."
The author is the deputy editor of the Cape Argus in Cape Town, and a contributor to China Daily.