Natural ability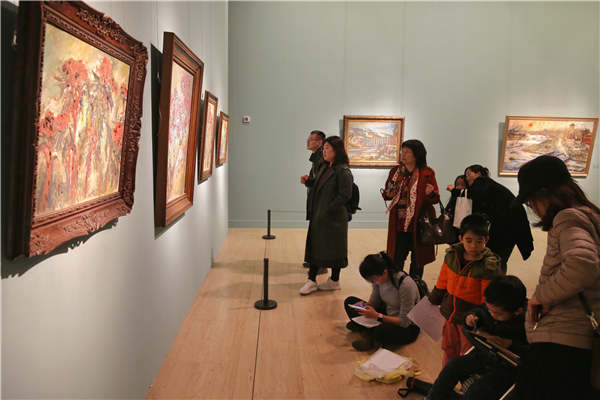 Visitors at the ongoing exhibition in Beijing. [Photo by Jiang Dong/China Daily]
The academy relocated to Nanjing in 1952. It was renamed the Nanjing University of Arts when it became a public institution, where Liu continued to serve as its principal.
However, the Shanghai Academy of Fine Arts was not Liu's first experience of education. In 1910, he opened a studio to teach oil painting in his native county of Changzhou, in East China's Jiangsu province.
In Shanghai, Liu garnered attention for being a liberal educator, who tried to free his students from the shackles of feudal teaching methods.
His school was the first to enroll both men and women. It received its first female students in 1919, including Pan Yuliang (1895-1977), a former sex worker who later became a renowned painter.
Ding recalls how Liu explained why he adopted the coeducation system despite opposition: "He said, 'Are there separate roads for men and women? No. Then why should we have schools for boys and girls?'"
Another controversy Liu sparked was to introduce nude models-men in 1915, and women in 1920-into sketching classes, making his academy the first to do so in China.
The school held an exhibition of students' paintings in 1917, which included nude drawings. One visiting principal was angered by the classes, and denounced Liu as a "traitor to art" and "a virus within educational circles".