Natural ability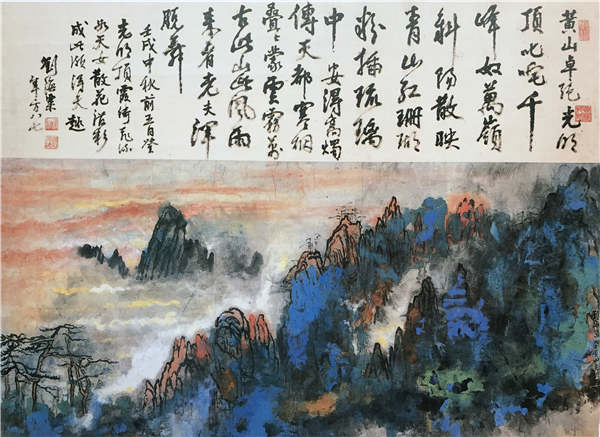 Guangming Peak of Huangshan Mountain, 1982. [Photo by Jiang Dong/China Daily]
Inspired by the natural beauty of Huangshan Mountain, Liu Haisu set out to modernize Chinese art through innovation and education. Lin Qi reports.
The magnificent views surrounding Huangshan Mountain have been admired by Chinese poets, painters and calligraphers over the centuries. The scenic mountain range in East China's Anhui province, a UNESCO World Heritage Site, was also a favorite of Liu Haisu (1896-1994). The prominent artist traveled there to paint on several occasions over the course of 70 years.
After his sixth trip in 1954, Liu composed a line that read: "Huangshan Mountain was previously a teacher of mine. Now it is a friend of mine."
And he carved the words on a seal, in remembrance of what the mountain taught him about the true character of nature and art.
During his life, Liu produced dozens of landscape paintings of Huangshan Mountain, both in ink-brush and oil, and 28 of them are the center of an ongoing exhibition, A Drop in the Ocean, being held in Beijing.
The show at the National Art Museum of China marks Liu's innovation during a period of great modernization in Chinese art. On display are more than 100 works that have seldom been seen in public, let alone together.
Liu had his first encounter with Huangshan Mountain in 1918, in the hope that the breathtaking natural scenery could inspire him to find a new direction for Chinese art.
He later recalled the trip: "The paths up to the mountain top were really difficult. Sometimes I had to crawl on my hands and knees. But the views were so attractive: the pine trees, the rocks and the mist. The mountain taught me a lesson about beauty."