Natural ability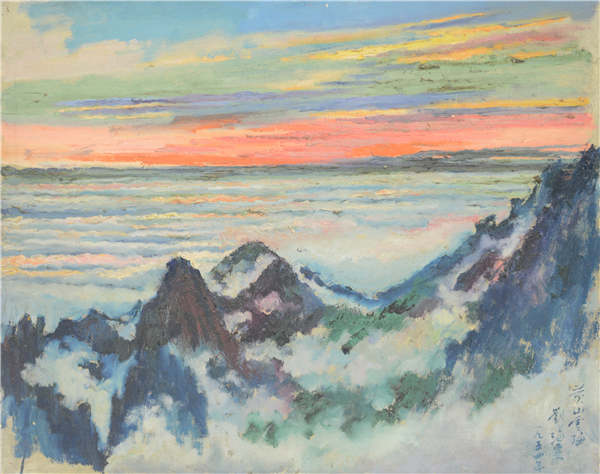 Sea of Clouds of Huangshan Mountain, 1954. [Photo by Jiang Dong/China Daily]
And the paintings at this exhibition reflect the change in Liu's approach to nature and his attitude toward life. The works created before he turned 60 were more realistic, while after that, he embraced a more abstract style to depict the ever-changing scenery of Huangshan. He heavily relied on the method of pocai, or splashing colors on paper. The technique also reveals the broad, philosophical outlook on life that he held.
Liu was 93 when he made his last trip to Huangshan. He produced 46 paintings during his final stay, which lasted nearly two months.
Ding Tao, a professor at the Nanjing University of Arts, accompanied him. He recalls one day when Liu was working on an ink-brush painting, Lion Peak, which is part of the current exhibition: "He splashed ink on the paper so hard that we thought the painting would be ruined. But he looked quite confident.
"After he stopped pouring, he added a few strokes here and there. It turned out to be a splendid piece of artwork."
Liu demonstrated the same innovative spirit in his educational practice.
Four months before he turned 17, Liu co-founded the Shanghai Academy of Fine Arts, the first proper art school in modern China, together with two other painters, Wu Shiguang and Zhang Yuguang.
The private institution operated for four decades after first opening its doors in 1912. The academy cultivated many noted artists such as ink-brush master Li Keran; Zhao Dan, who later became a popular movie actor; and Wan Laiming, a pioneer of the Chinese animation industry.