Saying with few words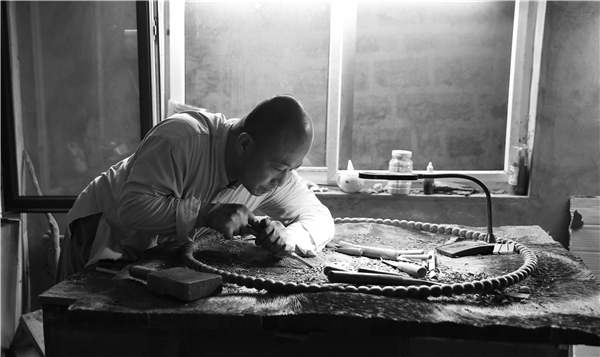 Zhou Ning has devoted the past two decades to the art of woodcarving. His solo show, True Words: Carving a Path to Self Cultivation, is now being held in Beijing. [Photo provided to China Daily]
Zhou has created a unique world of woodcarving, using wood as a medium to present his moods through his skillful cutting techniques, Zhu adds.
Zhou's studio is in Shiqiao village, not far away from the Taishan Mountain in Shandong.
The artist's works also connote Taoism, a subject he is fond of.
Speaking of his life in the countryside, Zhou explains it's cheap to have a big studio and collect materials needed for his work.
More important, the noise made by woodcarving does not disturb others as Zhou usually works at night and sometimes until early morning. During the day, he guides his apprentices with physical disabilities. Some of them have worked with him for years.
In 1995, Zhou graduated from Shandong College of Arts in Jinan and taught art at a special polytechnic school for people with hearing and speaking disabilities.
"All students were eager to learn a craft to make a living. I taught them woodcarving because it was an affordable craft for them," he says.
Zhou majored in mural painting in college and had hoped to be an oil painter one day. But while teaching his students woodcarving, he found their gift and decided to keep developing their potential, as well as build on his own skills.