In final address, Obama touts values and prods Trump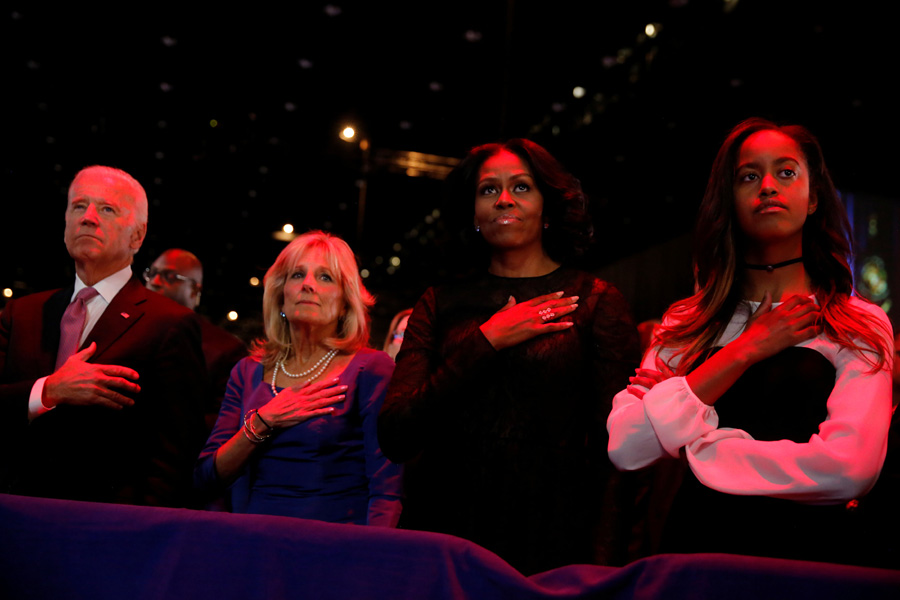 US Vice President Joe Biden (L-R), his wife Jill Biden, first lady Michelle Obama and her daughter Malia Obama stand for the national anthem before President Barack Obama delivers his farewell address in Chicago, Illinois, US January 10, 2017. [Photo/Agencies]
First Lady Michelle Obama, Vice President Joe Biden, his wife Jill Biden, and many current and former White House staff members and campaign workers attended the speech. Obama wiped his eyes as he addressed his wife and thanked his running mate.
The Chicago visit is his last scheduled trip as president, and even the final flight on the presidential aircraft was tinged with wistfulness. It was Obama's 445th "mission" on Air Force One, a perk he has said he will miss when he leaves office, White House spokesman Josh Earnest said.
All told, Obama will have spent more than 2,800 hours or 116 days on the plane during his presidency.
Obama plans to remain in Washington for the next two years while his younger daughter, Sasha, finishes high school. Sasha did not attend the speech. The Obamas' older daughter, Malia, was there.
The president has indicated he wants to give Trump the same space that his predecessor, Republican President George W. Bush, gave Obama after leaving office by not maintaining a high public profile.