China helping rural Kenyans access healthcare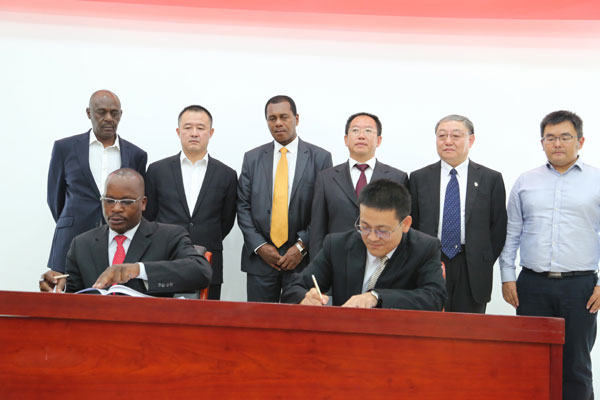 Michael Asola, Synergy Innovations' chief operations officer (left) and Zhou Shumin, director, Low-Cost Health Solutions Centre at SIAT (right), sign a memorandum of understanding during the handover ceremony of general modularized container clinics in Nairobi, Kenya, on December 7. EDITH MUTETHYA/CHINA DAILY
"I believe that with the great assistance and support of the Kenyan government and the Chinese embassy in Kenya, the project will be successfully applied," he said.
The clinics are divided into three sections; treatment, examination and infusion areas.
Synergy Innovations, a Kenyan-based company that has been engaged to maintain the clinics, create awareness and develop the product commercially.
Company director Errol King said the deployment of the clinics will save Kenyans living in rural areas having to travel long distances to access health facilities.
King said the clinics were expected to be up and running by February next year. So far, the logistics system has been set up and discussions with various county governments were progressing.
"In the near future, we will expand to offering service delivery on other types of health challenges within the same system. We plan to have specialized units and it's our hope that the county governments will embrace the clinics," he says.
Michael Asola, Synergy Innovations' chief operations officer said deploying the clinics would be easier compared to normal clinics because they don't have to go through the lengthy process of land acquisition.
He said modular clinics come ready with all the necessary medical equipment and a computerized system, allowing faster extraction of information by the medical fraternity. Any place that has a population of 5000 people is ideal for modularized clinics, he said.
In Botswana and South Africa, the clinics have been a success.