China helping rural Kenyans access healthcare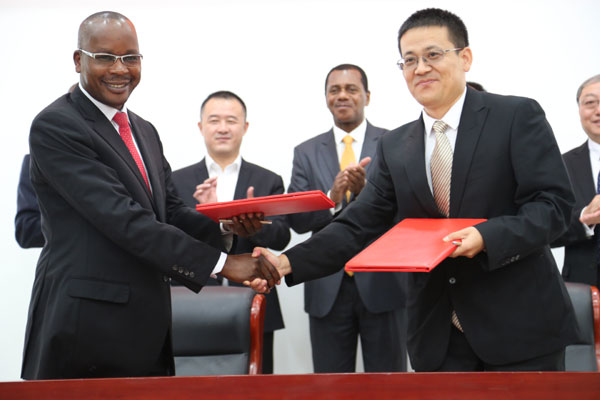 Michael Asola, Synergy Innovations' chief operations officer (left), exchanges signed agreement with Zhou Shumin, director, Low-Cost Health Solutions Centre at SIAT, during the handover ceremony of general modularized container clinics in Nairobi, Kenya, on December 7. EDITH MUTETHYA/CHINA DAILY
Four modular container clinics donated by the Chinese government will be used to provide healthcare in remote parts of Kenya.
The donation made possible by the Shenzhen Institute of Advanced Technology in the Chinese Academy of Sciences, is valued at 2.75 million yuan ($400, 000) to the Kenyan government.
At the official handover ceremony in Nairobi on Dec 7, Guo Ce, the economic and commercial counselor at the Chinese Embassy in Kenya, said the new clinics would bring medical access to Kenyans, especially those living in remote areas, where health facilities are few.
"The containers have been customized into mobile grass-roots general clinics in order to offer convenient daily healthcare, screening, basic medical treatment and public health-care services for the rural residents," he said.
He noted that the clinics were made using well-established Chinese technology and designed in accordance with the African nation's healthcare needs.
Guo said the donation, was a concrete and practical action taken by the Chinese government to help African countries improve basic medical and healthcare facilities and conditions.
"The project will help to further deepen the scientific and technological cooperation between the two governments," he said.
He added that the project was an important step under the program for healthcare science and technology, as well as a significant step to realize the spirit of the Johannesburg Summit of the Forum on China-Africa Cooperation.
According to Lv Jiancheng, the director of Shenzhen Institute of Advanced Technology, said the donation to Kenya followed the handing over of four modularized clinics to South Africa in Dec 2015.
He noted that the institute had also donated 10 similar clinics to Cameroon and seven to Botswana.