Sun Yang avenges Rio rival Horton with 400m free world title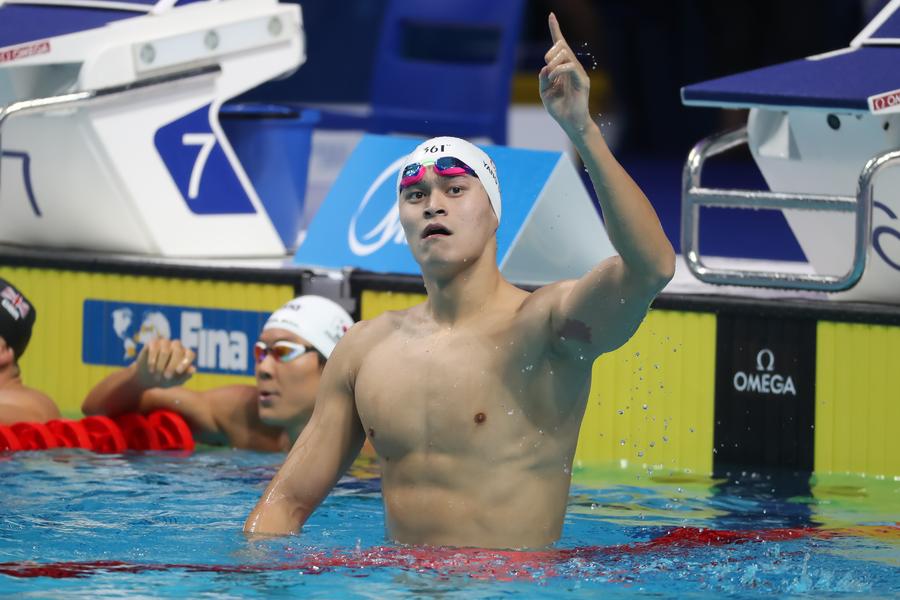 Sun Yang celebrates after winning the men's 400m freestyle final at the 17th FINA World Aquatics Championships in Budapest, Hungary, on July 23, 2017. [Photo/Xinhua]
BUDAPEST, Hungary - Chinese swimming ace Sun Yang got a bit of payback for his Olympic defeat by pulling away for a dominating win Sunday over rival Mack Horton of Australia in the men's 400-meter freestyle, the first swimming final of the 17th FINA World Aquatics Championships.
On swimming's opening day in the Hungarian capital, the 26-year-old ranked second in the heat, set himself on the leading position after 150 meters en route to his third straight champion after 2013 and 2015.
The Chinese starthen steadily pulled away from a stacked field that featured the past three Olympic champions in the event: Horton (2016), Sun (2012) and South Korea's Park Tae-hwan (2008).
Sun finished more than two body lengths ahead of the field, touching the wall in 3 minutes, 41.38 seconds. Rio Olympics gold medalist Horton settled for the silver, far back at 3:43.85, while Park finished fourth behind bronze medalist Gabriele Detti of Italy.