FIFA declares Cristiano Ronaldo best men's player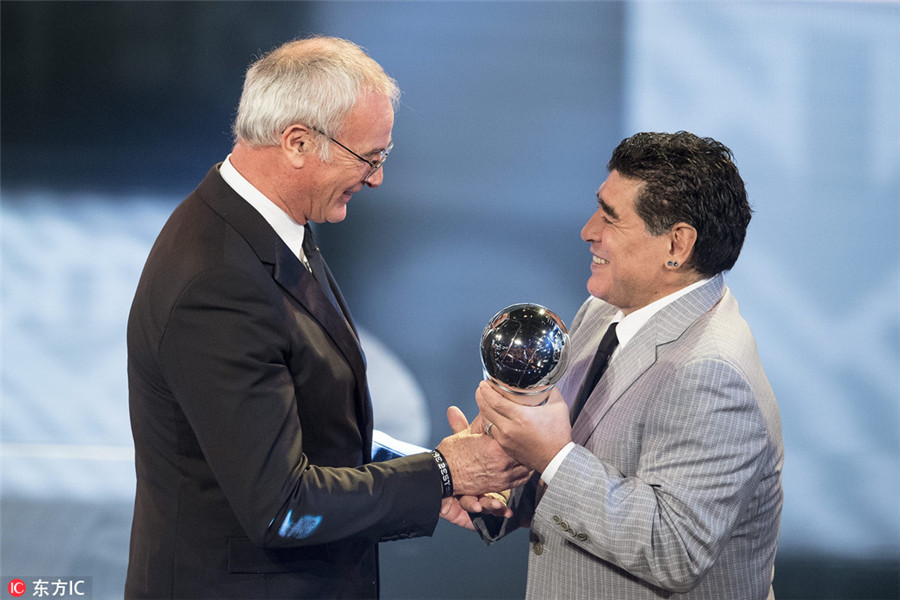 Leicester City's Italian manager Claudio Ranieri (L) receives the FIFA Men's Coach 2016 award from Argentinian soccer legend Diego Armando Maradona (R) during the FIFA Awards 2016 gala at the Swiss TV studio in Zurich, Switzerland, Jan 9, 2017. [Photo/IC]
Ranieri said he was "crazy" after winning the coach's award ahead of Fernando Santos, who led Portugal to the Euro 2016 title.
"I am crazy now," he said. "What happened last season in England was something strange. The football gods said Leicester must win."
Colombian side Atletico Nacional were given the Fair Play Award for conceding to Copa Sudamericana title to Brazilian side Chapecoense, whose team was decimated when a plane taking to the final crashed, killing 71 people.
"We did nothing more than what we had to do....handing them this trophy as a gesture of hope," said club president Juan Carlos de La Cuesta.
American Carli Lloyd won the women's player of the year award for the second year in a row.
Mohd Faiz Subri, of Malaysian Super League side Penang, won the goal of the year award for a 35-metre free kick in which the ball dipped and swung in a bewildering fashion to leave the goalkeeper stranded.