Fans in for treat as Kingsman sequel comes to China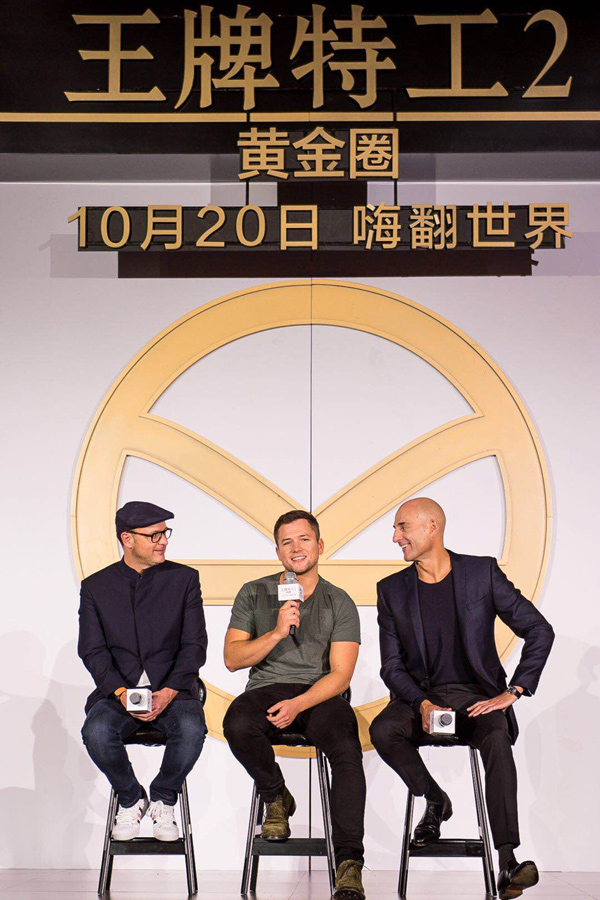 Director Matthew Vaughn (left), actors Taron Egerton (center) and Mark Strong unravel behind-the-scenes stories at a Shanghai promotional event. [Photo provided to China Daily]
One of the most popular Hollywood espionage franchises in China, Kingsman-the secret spy organization based on the Mark Millar-Dave Gibbons comic-is back.
The upcoming sequel Kingsman: The Golden Circle will hit Chinese mainland theaters on Friday.
The first movie, Kingsman: The Secret Service, was a commercial success in China, when it raked in nearly 490 million yuan ($74.5 million) in 2015 and obtained a score of up to 8.4 points out of 10 on the country's popular film review site Douban.
For the franchise's director Matthew Vaughn, his expectation is "not to let the Chinese audience down".
The new film begins with Kingsman's London headquarters being destroyed by a deranged drug lord, who poisons hundreds of millions of people to force the United States to accept her business as a legal entity.
Then Kingsman, in alliance with Statesman, a Kentucky-based spy organization and the US equivalent of Kingsman, and the hooligan-turned-superhero Eggsy Unwin, played by British actor Taron Egerton, team up to stop the criminal.
The new movie has a lot of American elements, including cowboy-style Statesman members and the drug lord's Cambodia base that looks like the 1950s US.
The sequel has been released in many countries since September.
Meanwhile, some movie critics say the American elements may take the shine off the franchise, which once stood out for its focus on British etiquette.
"Kingsman is a celebration of British culture. But we thought it would be fun to expand it to the universe," says Vaughn, explaining the featuring of American culture.
"In the future we may find another culture to celebrate. It may be China," says Vaughn, also known for Kick Ass (2010) and X-Men: First Class (2011).