Zimbabwean President Robert Mugabe resigns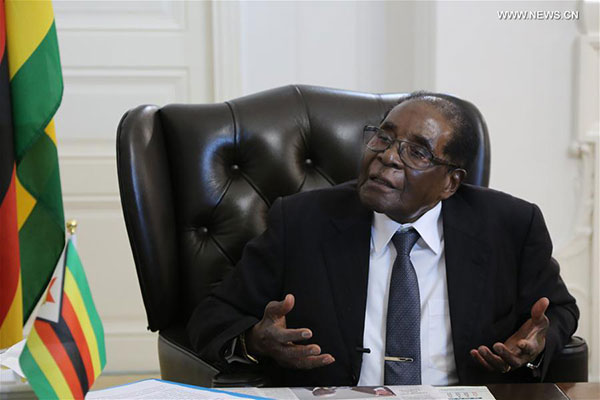 Robert Mugabe is interviewed in Harare, the capital of Zimbabwe in this file photo taken on Oct 25, 2017. [Photo/Xinhua]
He said he had told Mugabe that he had two options: either cooperate with the defense forces for a peaceful resolution to the crisis which would result in the preservation of his legacy or continue to dig in and suffer humiliation because definitely the will of the people would prevail against one person.
In neighboring country South Africa, traffic reportedly came to a standstill in its largest city Johannesburg on Tuesday as thousands of Zimbabweans went to the streets to celebrate following the resignation of their President Robert Mugabe.
A 30 year old teacher Yeukai Shumba said she loves the former president Mugabe, however, Mugabe made a mistake by allowing his wife to control him.
"We need change in our country. We have been struggling for so long... Definitely, I would go back home. I love my country, I am proudly a Zimbabwean. I know things won't change overnight but I would like to see more jobs for our youths. I would also want to see improvement in our health sector and our education must be affordable to all people," she said.
Another Zimbabwean teacher, based in Johannesburg, Sylvester Simanga Dube, welcomed Mugabe's resignation. He said many Zimbabweans are homesick having been in the foreign lands for years.
"Well I don't mind who comes in as president but there are signs that we are going to have a fresh promising restart. The new leader must work on economic revival and must have an appealing voice to the international community," he said.
Earlier on Tuesday, Zimbabwean state media New Ziana reported that South African President Jacob Zuma and his Angolan counterpart Joao Lourenco will travel to Zimbabwe on Wednesday to assess the political situation in the country.