Zimbabwean President Robert Mugabe resigns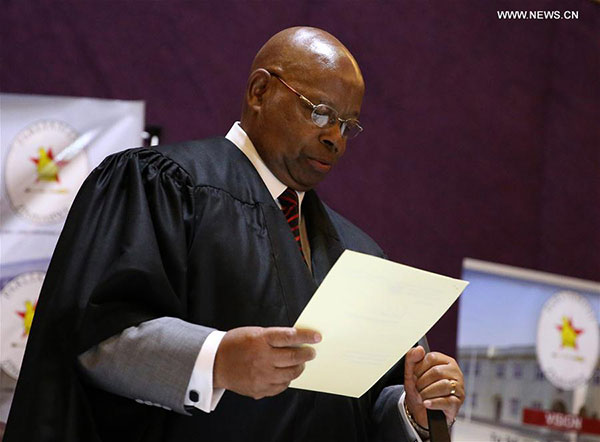 Zimbabwean Speaker of Parliament Jacob Mudenda reads the resignation letter of President Robert Mugabe in Harare, the capital of Zimbabwe, on Nov 21, 2017. [Photo/Xinhua]
HARARE - Zimbabwean President Robert Mugabe has resigned. His resignation was announced Tuesday by Speaker of Parliament Jacob Mudenda during a joint sitting of Senate and National Assembly that was debating his impeachment motion.
In his resignation letter Mugabe said: "I, Robert Gabriel Mugabe, in terms of Section 96 sub section 1 of the Constitution of Zimbabwe hereby formally tender my resignation as the President of Zimbabwe with immediate effect."
He continued: "My decision to resign is voluntary on my part and arises from my concern with the welfare of the people of Zimbabwe and my desire to ensure a smooth, peaceful and non-violent transition of power that underpins national security, peace and stability."
Mudenda immediately announced suspension of debate and said he will immediately put in place proper legal processes to install a new country president no later than end of Wednesday.
The resignation came two days after the ruling Zanu-PF party deposed Mugabe as leader, and also recalled him from government over a litany of charges.
The party had given Mugabe until mid-day on Monday to resign, but he ignored the deadline, prompting Zanu-PF legislators on Tuesday to start parliamentary impeachment proceedings against him.
However, as the impeachment proceedings got underway, Mugabe abruptly resigned, ending almost four decades of near total dominance of Zimbabwe's political landscape.
Zimbabwe Former Vice-President Emmerson Mnangagwa persuaded Mugabe to resign and said he will not return to Zimbabwe until he is satisfied that his personal security is guaranteed.
In a press statement released on Tuesday morning, Mnangagwa confirmed that he had spoken with Mugabe Monday. He called on Mugabe to resign in line with the wishes of the people who demanded his resignation as they demonstrated at the weekend in support of the Zimbabwe Defense Forces (ZDF) who took over government operations last Tuesday.
He said he had told Mugabe that the current political and constitutional crisis in the country was not a matter between the two of them but between the people of Zimbabwe and Mugabe.
"The people of Zimbabwe have clearly spoken on this matter. To me the voice of the people is the voice of God and their lack of trust and confidence in the leadership of President Mugabe has been expressed.
"The people of Zimbabwe have spoken with one voice and it is my appeal to President Mugabe that he should take heed of this clarion call by the people of Zimbabwe to resign so that the country can move forward and preserve his legacy," he said.