Far-right hopeful: French election 'choice of civilization'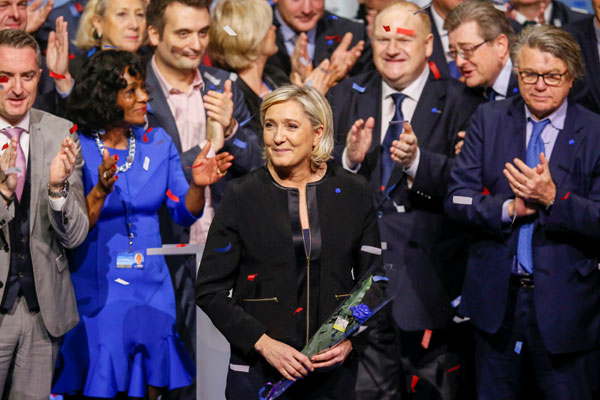 Marine Le Pen, French National Front (FN) political party leader and candidate for the French 2017 presidential election, attends the 2-day FN political rally to launch the presidential campaign in Lyon, France February 5, 2017. [Photo/Agencies]
The right's leading candidate, Francois Fillon, recently has been caught up in a corruption scandal and created an opening for maverick centrist Emmanuel Macron, who could end up facing Le Pen in the final round of the two-part election.
Le Pen has been a leader in early polls, which place her at the top in the April 23 first-round vote but not winning the May 7 runoff.
If elected, she envisions a "government of national unity" formed after June legislative elections.
Le Pen took control of the National Front in 2011 and largely rid it of the overt anti-Semitism that flourished under her father's leadership.
Since then, the party has drawn supporters from the length of the political spectrum by tapping into disgust over France's 10 percent unemployment rate and political corruption scandals. But the portrait its presidential candidate paints is as stark as her prescriptions for change.
The European Union, she said, "is a failure.""It hasn't upheld one of its promises especially in terms of prosperity and security," Le Pen told the cheering crowd on Sunday.
If elected, she plans to call a referendum on EU membership within six months. She also predicted other European members will join her.
She said the EU is "historical parentheses and, hopefully, one day, just a bad memory."Along with leaving the EU, Le Pen would withdraw France from NATO's integrated command, crack down on illegal immigration and reduce regular immigration to 10,000 people a year.
No one living in France illegally would be issued residency documents or allowed to acquire French citizenship, she said.
She said she would arrange for foreigners convicted of crimes in France to serve their prison terms in their homelands.
"There will be no other laws and values in France but French," she said.
Britain's vote to leave the European Union and U.S. President Donald Trump's election have reveal the "awakening of the people against oligarchies," Le Pen, praising Trump as a man who respects campaign promises and "acts quickly."Alex Turnbull contributed reporting from Lyon.