Far-right hopeful: French election 'choice of civilization'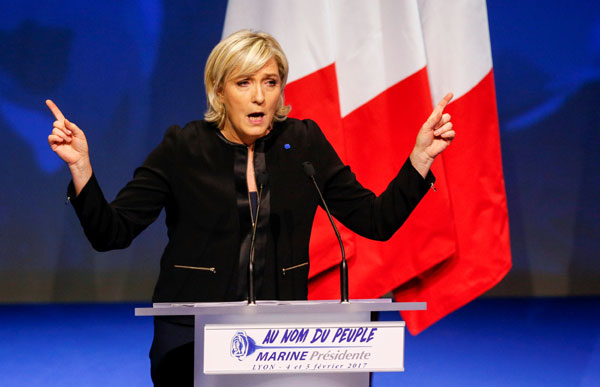 Marine Le Pen, French National Front (FN) political party leader and candidate for the French 2017 presidential election, attends the 2-day FN political rally to launch the presidential campaign in Lyon, France February 5, 2017. [Photo/Agencies]
LYON, France — French far-right candidate Marine Le Pen blasted the "two totalitarianisms" of globalization and Islamic fundamentalism Sunday in a speech formally launching her presidential campaign that hit all the right chords for her National Front party followers.
Looking to translate her high early poll numbers into votes, Le Pen evoked a frightening image of France's future during her much-anticipated speech. The country, enslaved to the European Union and unrecognizable as French, risks losing its identity if the political status quo endures, she said.
"We are at a crossroad .... This election is a choice of civilization," she said, asking whether her three children and other young citizens would have the rights and cultural signposts of the current generation. "Will they even speak our French language?" She issued a call for French voters on the left and right to join her, saying "You have a place at our side."The speech recalled the thundering and previously unpalatable pronouncements of her father, Jean-Marie Le Pen, the National Front's hard-liner founder. Marine Le Pen banished him from the party in an effort to clean up its image.
But her remarks made clear the elder Le Pen's anti-immigration message, targeting Muslims, remains a selling point in party ranks.
"We do not want to live under the rule or threat of Islamic fundamentalism. They are looking to impose on us gender discrimination in public places, full body veils or not, prayer rooms in the workplace, prayers in the streets, huge mosques ... or the submission of women," she said.
The estimated 5,000 people in the amphitheater and watching on big screens cheered and chanted "On est chez nous" ("We are in our land.")Le Pen reiterated some of the 144 "commitments" she has pledged to fulfill, if elected. It is a nationalist agenda laying out plans for France to leave the European Union, control its borders and readopt the old French franc as the national currency.
Running under the slogan, "In the Name of the People," her platform also would create popular referendums on any issue that gathered at least 500,000 signatures. And it would put French people first, with "national preference" enshrined in the Constitution.
"We've witnessed the impoverishment of France for some years now at a cultural, economic and social level," Billy Winkens, a 41-year-old supporter from Toule, in eastern France, said. "Today, people are hungry for change and want to drain the swamp, but in an orderly fashion, with coherence."The National Front has taken heart in the French left's disarray amid the unpopularity of Socialist President Francois Hollande, who decided not to run for re-election.