Turkish student pursues martial arts dream in China
Martial arts research path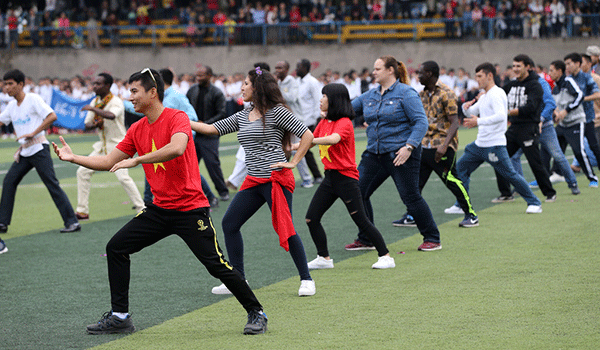 Foreign students perform tai chi in Wuhan, Central China's Hubei province, on October 21, 2016. [Photo/IC]
Born in 1991, Meiyu is the youngest child of her family with two elder brothers. Her brothers sent her to a martial arts class for self-defense before she came to China for further studies. At the same time, Meiyu was worried about her graduation thesis. "Everyone was writing about Chinese language and history, so I had to come up with a novel idea," said Meiyu.
Her martial arts instructor then suggested her to write about sports. Turkey was holding the World Martial Arts Exchange Conference at that time, and Meiyu volunteered as an interpreter and got to know Chinese martial arts instructors.
Meiyu then decided to write a thesis about Chinese martial arts culture, which also set the direction of her future study in China.
Besides other lessons, Meiyu spent the rest of her time training with instructors and has now fully mastered tai chi, a traditional Chinese shadow boxing, and fan zi, a Chinese martial art that emphasizes offence and defense with the hands. "I still cannot compete with those who started martial arts training at young age," said Meiyu. "But after all, I am focusing more on martial arts history and culture."
Meiyu can still remember her first training class. "I used to practice kickboxing, which has very fast movements, but tai chi requires very slow movement," she said. She managed to slow her speed after two weeks' training, but the instructor would always say "slower" when she practices. Fun and pain goes together during the training, said Meiyu. "I have to start practicing at 7 am in the winter, which is too hard for me."