Reliving Chongqing's wartime past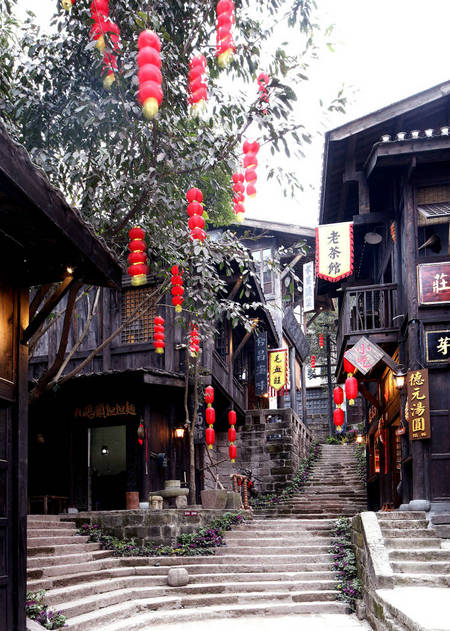 The Liangjiang International Movie City in Chongqing, China's wartime capital during the War of Resistance Against Japanese Aggression (1931-45), features replicas of old streets and historical buildings that bring visitors back to the 1930s. Many people rent costumes to dress up as residents or even movie stars of that time as they walk around the city. [Photo by Tan Yingzi/China Daily]
On one of Chongqing's many rainy days, you can join the locals at one of the city's many tea houses. Records show that in 1938 there were about 3,000 tea houses in Chongqing.
Featuring square wooden tables and long benches, traditional tea houses serve up infusions in a covered bowl through a series of specific rituals.
After a tea break, the Six Countries restaurant is a good place to sample local dishes such as chili chicken.
Nightlife in the movie city is vibrant too. The famous Queen's Dance Hall was a major social meeting place in the wartime capital and visitors can still listen to old songs and dance on the beautifully preserved floor there.
If it's getting late, you can stay at the Flying Tigers Inn named after the legendary US armed force volunteers who fought the Japanese in defense of China.
"Movie city reflects the deep culture and history of this ancient city," says Zhou Yong, director of the Chongqing Research Center for the War of Resistance Against Japanese Aggression in the Unoccupied Area.
"Chongqing is a great city which witnessed victory in the war against the Japanese invasion and is an important part of modern world history."
Since its opening, Liangjiang International Movie City has attracted over 5 million visitors.
"Today I brought my son here to educate him about the history of our hometown," says Tang Li, 49, a local businesswoman.
"Movie city is also a good place to show friends from other places in China the authentic culture of Chongqing."
Contact the writer at tanyingzi@chinadaily.com.cn