Reliving Chongqing's wartime past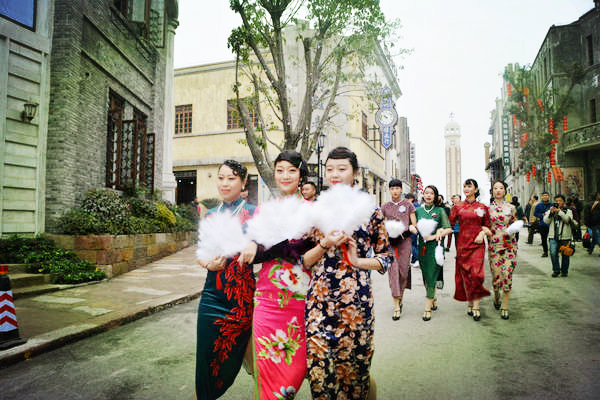 The Liangjiang International Movie City in Chongqing, China's wartime capital during the War of Resistance Against Japanese Aggression (1931-45), features replicas of old streets and historical buildings that bring visitors back to the 1930s. Many people rent costumes to dress up as residents or even movie stars of that time as they walk around the city. [Photo by Tan Yingzi/China Daily]
To enhance the experience, many visitors rent period costumes used in the dozens of TV dramas and movies shot there. Visitors can dress up as generals, soldiers, policemen, students or even movie stars to start their role playing adventure as they walk around the city.
The 1942 Historical Block, the setting for numerous movies and TV dramas, is the most popular highlight. The grand two-story building on a plaza called the President's Mansion hosted the Kuomintang government in the wartime years. Visitors can learn about the history of the city and the war there.
The office building of Xinhua Daily is a good place to learn more about the Communist Party of China during the war. The newspaper, founded by former premier Zhou Enlai in 1938, was the Party's first official national newspaper.
The Monument of Victory in the War of Resistance Against Japanese Aggression was once the tallest building in Chongqing and has been a prominent landmark since 1947. It is the only monument in China to commemorate the victory and although the movie city features a faithful replica, the original still stands on the Liberation Square in downtown Chongqing.
The nearby Camera Museum is an interesting place to visit and features dozens of old models from all over the world.
In addition to sightseeing, visitors can taste all kinds of local delicacies from the vendors and shops lining the streets, such as Chongqing noodle, rice cake and hotpot.
After lunch at Chaotianmen Port, people often rent a boat or relax on a river cruise.
At the Cathay Theater, a famous cultural center in wartime Chongqing, visitors can watch screenings of foreign movies shown in China during the 1930s.
If you are lucky, you can catch a traditional local wedding ceremony taking place on the streets.