Thunder's Westbrook named MVP after historic season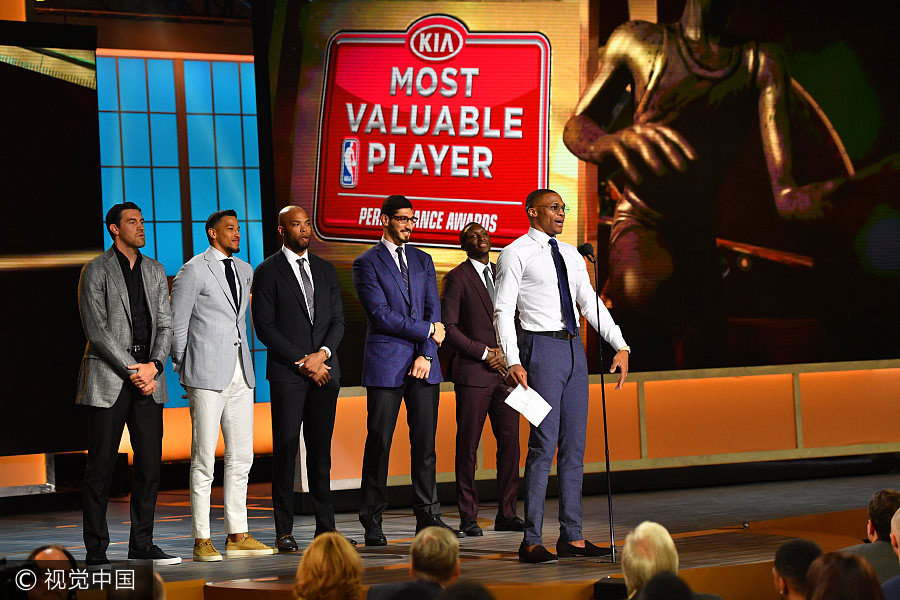 Russell Westbrook of the Oklahoma City Thunder speaks after winning the Most Valuable Player of the Year award during the 2017 NBA Awards Show on June 26, 2017 at Basketball City in New York City. [Photo/VCG]
The 28-year-old American was on a mission from the start of the season as he silenced critics who doubted whether he could thrive without Kevin Durant, who left the Thunder last July and won an NBA title with Golden State two weeks ago.
Westbrook carried the Thunder on a nightly basis, setting the new standard by recording 42 triple-doubles, one better than the former single-season mark set by Robertson.
Despite the loss of Durant, a four-times scoring champion, the Westbrook-led Thunder recorded 47 wins, just eight fewer than the previous campaign.
The first-ever NBA Awards show followed years in which the league announced individual honours separately throughout the postseason.
Among the night's other awards, Golden State forward Draymond Green, two weeks removed from winning his second NBA title in three years, was named the best defensive player.
Mike D'Antoni was named Coach of the Year after leading Houston to 55 wins in his first season with the team.
Milwaukee Bucks guard Malcolm Brogdon was named Rookie of the Year, while Houston Rockets guard Eric Gordon earned the Sixth Man Award for his work off the bench as a substitute.
Reuters