Thunder's Westbrook named MVP after historic season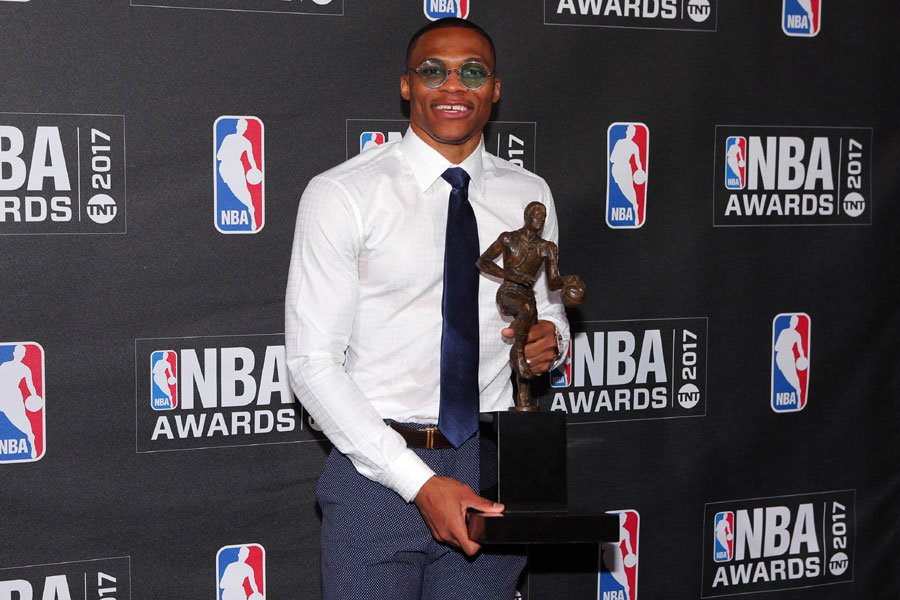 Oklahoma City Thunder player Russell Westbrook poses for photos with his 2017 NBA most valuable player award during the 2017 NBA Awards at Basketball City at Pier 36 on June 26, 2017 in New York City, US. [Photo/Agencies]
June 26 - Oklahoma City Thunder point guard Russell Westbrook put the finishing touch on a magical season by being named the Most Valuable Player of the 2016-17 campaign on Monday at the NBA's inaugural awards show.
Westbrook, who became only the second player and first in 55 years to average a triple-double for an entire season, won the award over Houston Rockets guard James Harden and San Antonio Spurs forward Kawhi Leonard.
Westbrook averaged a mind-boggling 31.6 points, 10.4 assists and 10.7 rebounds over 81 games, making him the first player to average double-digits in three major categories since Oscar Robertson first did it in 1961-62.
After Westbrook was presented with the Maurice Podoloff Trophy by NBA Commissioner Adam Silver, he promptly called his team mates to the stage.
"These guys sacrificed so much for me throughout the year," said Westbrook. "It was obviously an amazing season for me but without these guys and the rest of our guys that are not here, none of this would be possible.
"So this award is not for me. This is for all you guys and I am very thankful to have you guys in my corner. You guys are my brothers for life."