Diego Maradona hopeful of future Napoli role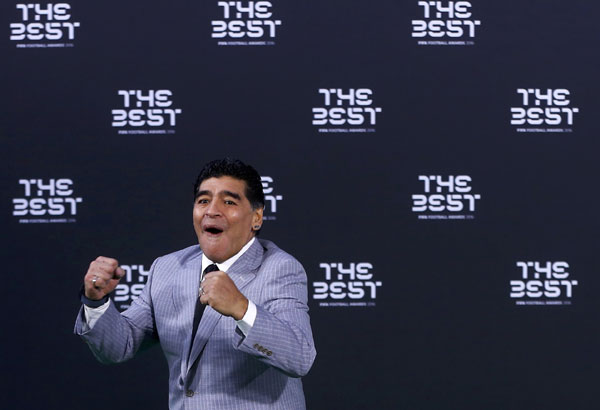 Diego Armando Maradona arrives at the FIFA Awards Ceremony in Zurich, Switzerland on Jan 9, 2017. [Photo/Agencies]
"It continues to surprise me," Maradona said. "There are kids who have never seen me play and today they get excited and cry for a photo with me.
"Every day I feel the affection and love the Neapolitan people have for me. The father has transmitted it to his son, who has then transmitted it to his and this will never end. After 30 years the same love continues, like the first woman you have in your life."Maradona led Napoli to its only two league titles in 1987 and 1990 and scored a club record 115 goals between 1984 and 1991.
"After a match against Cremona at the beginning of the season which didn't count for anything but which drew 80,000 people, I understood that here at Napoli we needed to play for the title," Maradona said. "I came from Barcelona, where we could win, draw or lose, but here at Napoli no, I couldn't lose, I told myself then.
"I would have been ashamed to have 80,000 people and then not to win. And we won everywhere, at Juve, at Inter, at Roma... And if now Napoli can think it can win the title, it is thanks to me."