Diego Maradona hopeful of future Napoli role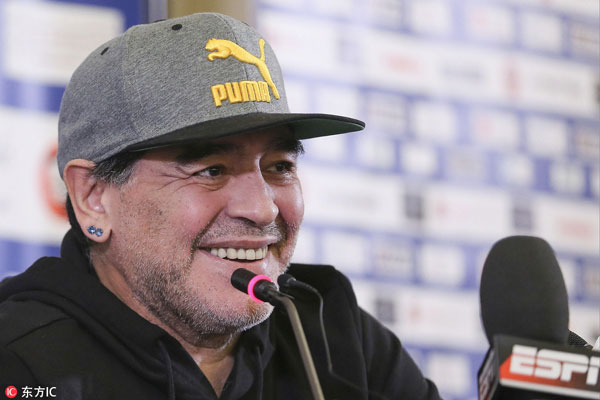 Former Argentine football player Diego Armando Maradona holds a joint press conference at Vesuvio Hotel in Naples, Italy on January 15, 2017. [Photo/IC]
NAPLES — Former Napoli star Diego Maradona is in talks to work with the Serie A side, where he is still idolized nearly 27 years after leaving the club.
Maradona, who is in Naples for a theatrical event on Monday celebrating the club's first title win, met with Napoli President Aurelio de Laurentiis on Saturday night.
"It was the first step," Maradona said Sunday. "First of all I have to sort out the problems I have here in Italy, then I can work for Napoli in Italy and in the world.
"We have to do things well because I want a winning team, a team that can play on level terms against Juve, Inter, Milan and Roma. He understood immediately because in these years he has grown from a president who didn't know much about football to become an expert today."An Italian court is scheduled to finally end the decades-long battle between Maradona and the Italian government on Feb. 28.
Maradona has always insisted he does not owe any of the millions in back taxes the government claims are due.
The 56-year-old Argentine arrived in the city on Saturday night and was greeted by more than 100 cheering Napoli fans, who had waited in freezing temperatures outside his hotel for a glimpse of their idol.