Balancing eloquence and silence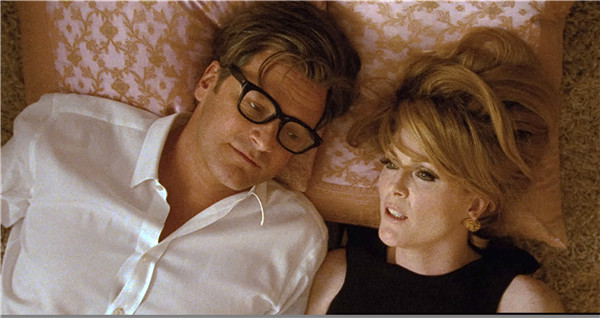 One of Firth's best-known films, A Single Man. [Photo/CFP]
Give your roles dignity
"Never play the emotion," Firth says that's how he was taught in drama school. "You find emotion. You experience it. But don't act the emotion because that's not real life. Nobody walks into a room with the intention to be sad or angry. What you usually see people doing is to manage that emotion. If they don't manage it, that's because the emotion is too big for them. We are usually much more moved with an actor struggling with his tears than just exhibiting tears. The same is with rage or sadness. That's the chance to play the dignity. You should have some managed relationship with your emotions. It sounds convoluted, but it's a critical thing with acting. I see it with every great actor. "
That was exactly the approach Firth took toward the titular character in The King's Speech. He prepared by listening to the speeches of George VI, but "rather than trying to sound like him, I tried to sense what he felt. I could hear the difficulties." He was especially moved by one particular moment "that wasn't the pain of the stammer, but the dignity with which he fought the stammer". There were a few seconds of terrible silence that was "very eloquent to me about what he was experiencing".
Even after filming had ended, the stammer still interfered with the actor's speech patterns. "When I think about stammering, I start to lose my rhythm and fall over my words." It was a "physiological thing" that Firth had discovered while researching the character.
Fortunately he had been warned and helped by Derek Jacobi, "one of our greatest actors in Britain," who had famously played Claudius in I, Claudius, a real-life character with a stammer. The speech impediment stayed with him for about six months and then went off. "It was a normal thing, so don't panic," Firth was told by his predecessor.
Firth sees acting as "a journey of imagination". The actor does not really go through the things the character does, but in his mind he does, which is like "disappearing into the world of a book or a movie or a play and feels it's still part of your living after it's done."
Behind the scenes, Firth was also a perfect embodiment of the English gentleman, which he portrays so vividly on screen, punctual to the minute and courteous to everyone. When asked about the secret formula for this image, he laughs it off: "It's just the suit."
Contact the writer at raymondzhou@chinadaily.com.cn