Balancing eloquence and silence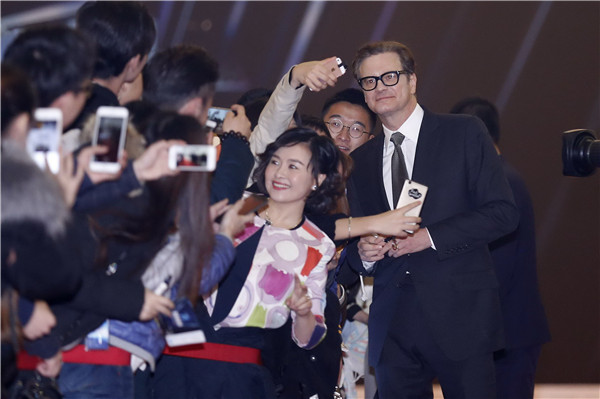 Firth's appearance in China-Briton Film Festival in Beijing attracts a large number of fans. [Photo/CFP]
Asked about ideal projects that require the pooling of talents from both China and Britain, Firth cites a story by Japanese-British author Kazuo Ishiguro, set in 1930s Shanghai and centering on a group of displaced expatriates, as the perfect example for cultural fusion that lends itself to big-screen treatment. The White Countess, made by the multinational team of James Ivory and Ismail Merchant, was released in 2005.
"I don't think I would have any chance of delivering dialogue in Mandarin convincingly without understanding what I was saying," he says responding to my hypothetical question that his role in a Sino-British co-production would require him to speak some lines in Chinese. "I can't just listen to the phonetics. When I read words on a page, written by someone else, my job is to own them. I have to make sense of them emotionally, mentally and psychologically. I have to take the words you gave me, be told how you say them musically, which would be a huge challenge, and then own them."
The art of silence
With solid training from Drama Centre London, Firth displays a mastery of dialogue that ranks him with the best of his British peers. Ironically, his most pivotal roles did not require him to speak long Shakespearean lines as if letting pearls roll off satin sashes.
For his breakout performance in the 1995 BBC adaptation of Pride and Prejudice, he spent a lot of time staring out of the window, he says. "And I was on screen only about 20 percent of the time," and the script usually specified little more than "staring".