Three cultures on canvas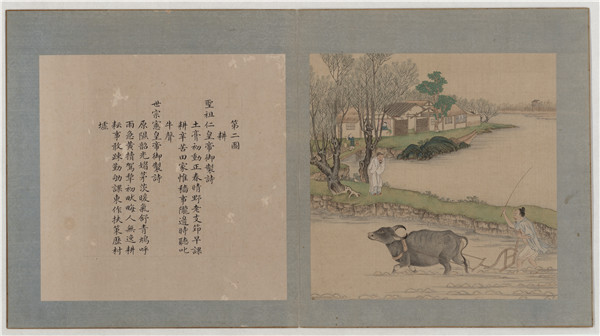 Painting Album of Farming Scenes, a Chinese painting from the Qing Dynasty. [Photo by JIANG DONG/CHINA DAILY]
Ikeno Taiga (1723-1776) stood out for works that blended the philosophy of literati painting with Japanese artistic traditions and Western painting techniques. A 3.6-meter-long screen painting at the exhibition epitomizes his distinctive style, featuring smooth lines, a translucent palette and dynamic composition.
The painting was inspired by Northern Song poet Lin Bu's prose in which the scholar living in seclusion describes plum trees as playing a wife's role and cranes as his sons.
However, Zhu says literati painting did not blossom in Japan, because the country was then ruled by the samurai, or a military elite.
He says the period, however, witnessed the emergence of a more popular form of art, ukiyoe (pictures of the floating world), several of which are also on show. They largely focus on folk customs, the lives of common people and other worldly subjects in a refined, decorative manner. The works were especially well received by merchants and urban dwellers in the Edo period.
In Korea, literati paintings were not produced by scholars but by professional painters, who often painted motifs of imperial life and showcased the feelings of the ruling class.
A representative example is a painting by 16th-century painter Yi Am, who is famous for his skill of vividly detailing the fur of animals.
In the work on show, Yi portrays a dog taking care of its puppies. Chen Qingqing, a curator from the National Museum of China, says the work shows the appeal typical of Korean literati painting.
Contact the writer at linqi@chinadaily.com.cn
If you go: 9 am-5 pm, closed on Monday, through Dec 18. East of Tian'anmen Square. 010-6511-6188.