Three cultures on canvas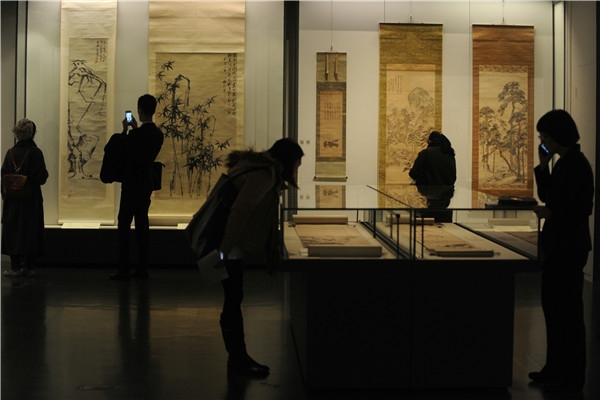 Visitors at the ongoing exhibition The Oriental Art of Painting at the National Museum of China. [Photo by JIANG DONG/CHINA DAILY]
The juxtaposition of the art shows the cultural traditions shared by the three countries, according to Yi Young-hoon, director-general of the National Museum of Korea.
"Also, the works reveal differences that need to be understood and respected, based on which people can further develop friendships," he says.
While the practice of painting flourished in the three countries during the five centuries in question, it took on different features.
Zhu Wanzhang, an art historian and researcher at the National Museum of China, says China's literati painting (wenrenhua) reached new heights in the Ming and Qing dynasties, carrying forward a rich legacy created in the Song Dynasty (960-1279).
The style, which got its name because it was widely practiced by highly educated people-intellectuals and scholar-bureaucrats-was devised by Wang Wei, a prominent poet and artist of the eighth century, and further developed by Su Dongpo, the famed scholar of Northern Song Dynasty (960-1127).
The style exhibits a lofty, highly individual and expressive feel. And Zhu says its progression over centuries in China reflects the superior social standing of the literati.
Also on show at the exhibition are the works of Tang Yin and Wen Zhengming, two of the most celebrated Ming painters, whose pieces represent the highest levels of literati painting.
The style spread to Japan after artists from there were exposed to Jieziyuan Huapu, a 17th-century manual of Chinese painting.