'Sky In Their Eyes' debuts late on friday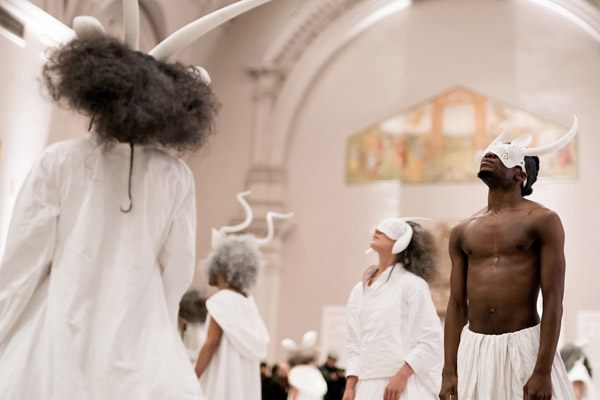 Stage photo of Sky In Their Eyes: The Antelope in a Vanishing Landscape [Photo/CGTN]
Visitors were deeply impressed by the performance. Avaoon drew sketches while watching the show. "I thought it was striking. It took over the space very well. And it is really powerful. I think everyone watching fell silent and affected by it. The costume was beautiful. I thought masks were really cool", said Avaoon.
Felix was a visitor from Germany. He thought the show was something more than a dance. "It was an expression of feelings, fear and friendship. To transport all those emotions, you have to be very good artists. I think they did very well", said Felix.
Xu Rui invited 11 dancers from the UK and many other countries around the world, and together with Spanish musician, creating this woeful but beautiful story.
Amy Grubb, dance designer and choreographer of the show, thought it was a great honor to work with Rui. "She is a very talented designer. To work with V and A museum in London is also a great privilege. But I think the most important thing for me was the meaning of the piece, the meaning how we are trying to tell a story, and show how we should be protecting animals, not destroying their lands, not exploiting animals", said Amy.
Friday Late at the V and A, the original contemporary late night museum event, is held on the last Friday of the month (except May and December). Established in 1999, the Friday Late program celebrates all aspects of contemporary visual culture using the V and A collection and building as its inspiration.
This is the first time for V and A to concentrate on Chinese theme, showing China's contemporary art, design, sounds and states of China in flux.