'Sky In Their Eyes' debuts late on friday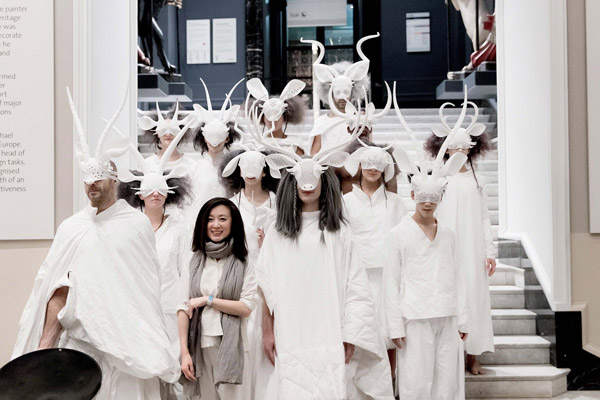 Xu Rui and performers [Photo/CGTN]
A music and dance performance, called Sky In Their Eyes: The Antelope in a Vanishing Landscape, had been performed live for the very first time on the night of November 24 at the Raphael Room at London's famous V and A museum as part of Friday Late: Sino Flux, a celebration of the contemporary art, design, sounds and states of China.
Unique costumes, animal masks and especially composed music and dance, visitors had explored a journey of tragedy and hope through this fashion and dance theater, created by Chinese artist and designer Xu Rui.
The story was told through the eyes of the magnificent and gentle antelope family who have stood proudly as wardens of the land and existed harmoniously with nature for thousands of years. Their habitat was once vast, yet with the expansion of cities it is quickly disappearing. As well as the deterioration of their environment and lack of food, they also face slaughter from human beings.
Through personalizing the antelopes, Xu Rui reinterprets the antelope family, endowing them with the traditional Chinese aesthetic character of 'Junzi,' which has a similar meaning to a gentle man.
Their humbleness and death in huge numbers has finally raised people's awareness to their plight. No matter how difficult the situation is, antelopes stand like hermits overlooking the wilderness, with determination and transparency in their beautiful eyes. In their eyes, there is the reflection of the clear sky along with nobility, sacredness, love and generosity.
Designer Xu Rui expressed her wish,"I hope to explore the beautiful eyes of these wild animals. I hope to raise awareness and thinking to our environment, the city we live in, also hope in animals' eyes through my design. Giving animals an opportunity means to give ourselves the same one."