Chinese musicians bring music to Philadelphia communities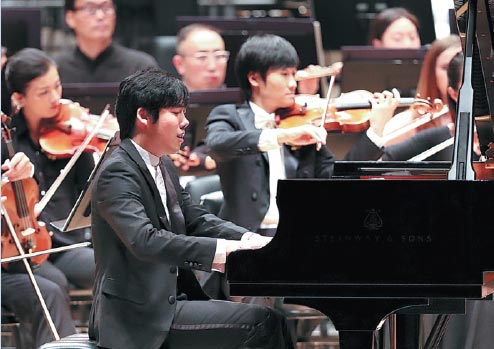 Pianist Zhang Haochen performs the Chinese classic piano concerto Yellow River with the Orchestra. [Photo/Xinhua]
To 16-year-old Agnes Willianms, the Chinese teacher from across the Pacific Ocean was admirable. "The Chinese teacher gives a very good impression to our band and myself as well. He was very instructional, he knows how to teach us. It is a very good experience to get to know some other teacher than your regular American teacher. But I definitely wish to be able to go to China one day, and play Chinese instruments there."
Brand Ewing, a schoolteacher plus band director, was not shy away from complimenting his Chinese counterpart. "He was fantastic and amazing. The student enjoyed it very much. And he was lovely with students, very kind, very gentle. They played very well under his instructions. Also, I was very impressed by his teaching and I was very inspired by his communication with students. He was very capable, talented and charismatic conductor."
For his part, Yuan had very good impressions about his American students. "They are more outgoing compared with their Chinese peers, but young students of both countries are passionate about music and playing them. I think they have made it to convey their feelings, and their aspirations through each and every note they played."
The US trip was not just rewarding for Yuan and the students, but young orchestra players of both sides as well. "We got closer and closer as our performance goes on in different stops. My counterpart of the Philadelphia Orchestra, Ms Vulgamore, said China is like their second home. And so do us. The historical, business and emotional connections are beyond oblivion," said NCPAO's Li.
"Besides bringing music to the common people, the NCPAO wanted the US citizens to have access to the best works of Chinese famous composers, and that was what we have been pursuit of. The Philadelphia people listen to Johannes Brahms very often and as much as they like, but not so if they want to have a try on Chinese music," he noted.
Such aspirations helped unveil the formal performance last Wednesday night. At the presence of hundreds of people, the NCPAO performed Violin Concerto No 1 and Reflect D'un Temps Disparu created respectively by Chinese composers Zhao Jiping and Chen Qigang, as well as Brahms' Symphony No 4, receiving longtime applauses and hot cheers.
According to Walter Douglas, deputy assistant secretary of state for public affairs and public diplomacy and for regional and security policy at the US Department of State, it was very good to see the Chinese and American people connect on personal level.
But to Nick Platt, a diplomatic veteran who went to China in 1973 with the Philadelphia Orchestra and witnessed China's dramatic development ever since, there were something deeper in his understanding of the Chinese-US relations.
"Cultural exchange plays a very steadying role in our bilateral relations, it keeps our relationship on track. Everybody understands the language of music. We have a long tradition to go back to the very beginnings of US-China relations. The daily exchanges between our musicians are what keeps it alive," he said.
"US and China ... have been partners and competitors, I don't think that will change. But I think the general positive part of our relations will last, because we have been so intertwined. we have no other alternatives," said Platt.
XINHUA