Chinese musicians bring music to Philadelphia communities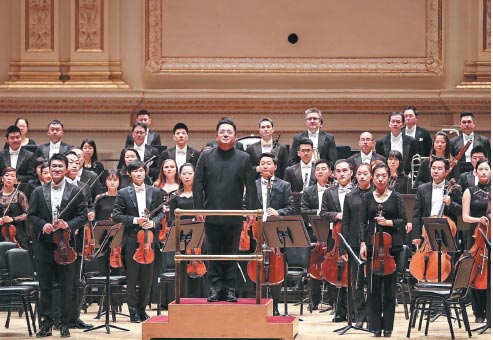 The National Center for the Performing Arts Orchestra made its debut at Carnegie Hall, New York on Oct 30. [Photo/Xinhua]
In the eyes of Li Zhixiang, delegation head of China's National Center for the Performing Arts Orchestra (NCPAO), the Philadelphia Orchestra, one of NCPAO's most famed strategic partners, carries special weight to him and his team.
"The Philadelphia Orchestra was the first Western musical body to come to China since 1949-that was in 1973 when the US and China had no diplomatic relations yet-and performed Western classic pieces for the Chinese audience," Li said. "Neither of us would forget that page of our history, and friendship."
The frequent exchanges between the two leading orchestras ever since then have now led to a common sense of intimacy on both sides, as NCPAO artists went to local grassroots communities and streets to play music before their grand performance last Wednesday night.
"It is not a special arrangement actually, to perform high art to the common people," Li said. "There is a shared sense of responsibility for the NCPAO and the Philadelphia Orchestra, to boost music in our cities, to make it more accessible to the grassroots communities."
But more importantly is the hope of both sides to give the US citizens an access to young Chinese artists playing their music and the excellent pieces of the Western world, according to Allison Vulgamore, head of the Philadelphia Orchestra.
"These young men and women are generally in their 30s, and that is quite something, something awesome," she said. "Our Philadelphia people can listen to the works of Brahms, Mozart and Tchaikovsky as much as they like, but most of them have no access to Chinese composers and their work."
As part of the booming cultural and people-to-people exchanges between China and the United States, the NCPAO had performed in Chicago and New York before coming to this city, but they have some special stories for Philadelphia.
Earlier in the morning, eight young musicians played both Chinese and Western classical music at Liberty Place, a shopping mall. Their skilled performance of Jerry Bock's Fiddler On the Roof and Johann Strauss' Tritsch Tratsch Polka attracted dozens of shoppers, but what awaited them was beautiful Chinese folk songs, something elegant and delicate to them.
Maria Andriasova, an 82-year-old lady from Russia, said the music played by the Chinese young musicians were just amazing. "The music they played are reminiscent of my days in Russia. Our people there also like sad rhythms. But speaking of the Chinese, they have to have a heart to play up things so emotional."
Not far from the Liberty Place was High School for the Creative and Performing Arts, where 75 students of the school band were conducting rehearsal of the theme songs from E.T. and The Lord of the Rings-The Fellowship of the Ring, under the instruction of NCPAO Assistant Conductor Yuan Ding.