Veteran sculptor shows common and important figures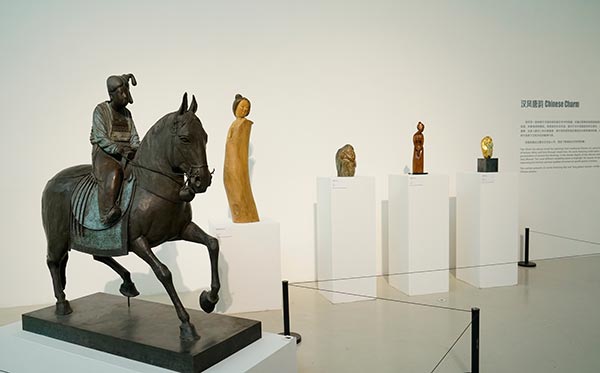 His ongoing solo show in Beijing, Works of Craftsmanship, features sculptures and paintings. [Photo provided to China Daily]
Although Tian has been an established sculptor for long, it was not until the late 1970s that he started to invest more time in it. After graduating from art college in 1964, Tian, who majored in oil painting, began teaching at a primary school in southwestern Guizhou province. He lived there for 25 years before returning to Beijing to teach at the fine arts academy.
"There were a lot of wood blocks in Guizhou. So naturally, it made me want to carve and sculpt," he says, adding that the diversity of ethnic culture in the province also inspired him to pursue the art.
The current exhibition shows some sculptures of people from Guizhou's ethnic groups that Tian produced while living there.
It was also in Guizhou where Tian became interested in the age-old lacquer art of China, and then integrated it into his work.
"I first learned about raw lacquer when I arrived in Guizhou. Villagers there carried with them cigarette cases that were made of cowhide and coated with a layer of lacquer," he says.
Later when he visited the Mawangdui Tombs of the Western Han Dynasty (206 BC-AD 24) in Central China's Hunan province, he saw among the unearthed artifacts several bronze and lacquer pieces.
"The bronze objects suffered severe corrosion on the surface, while the lacquer ones still had smooth, colorful appearances and the patterns could be clearly seen.
"It occurred to me that the long tradition of applying raw lacquer could be enlivened in the creation of modern sculptures."