Veteran sculptor shows common and important figures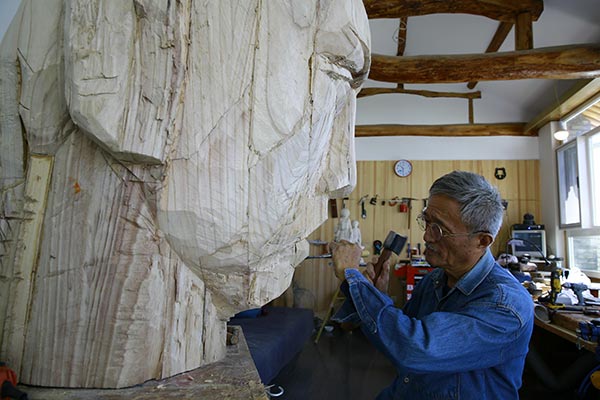 Tian Shixin works in his studio in Beijing. [Photo provided to China Daily]
It is not uncommon for artists today to spend time on socializing or profit from commissions.
But Beijing-born sculptor Tian Shixin, 76, seems to be an exception to the global trend.
For most of the time, he "hides" in his studio, according to Li Xiangming, a fellow artist and friend.
"He thinks of the less fortunate people he has met and depicts their lives in his works. He also portrays men of virtue in Chinese history-he voices justice, progress and freedom."
Tian says he seldom attends social events, because he finds such occasions boring. "I'm in my 70s. I don't have much time left. I treasure every minute spent on sculpture."
But for the recent opening of his ongoing exhibition in Beijing, Tian stepped out of his studio in the capital's northern suburbs. The show, Works of Craftsmanship, has dozens of sculptures and paintings by him that cover his career spanning decades. The show is being held at the art museum of the Central Academy of Fine Arts where he once taught.
The display brings to light Tian's comfort level working with different materials-wood, metal, raw lacquer and clay.
Li says Tian avoids repeating approaches, and reflects his understanding of beauty and cultural traditions in his sculptures.