Lingering melodies of a singer-songwriter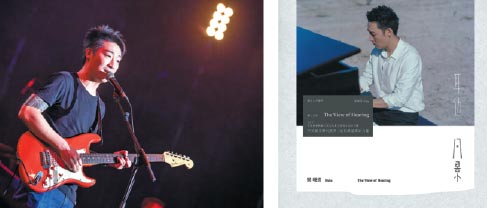 Liang is known for his narrative lyrics in English, which he performs to the accompaniment of light guitar and piano. [Photo provided to China Daily]
Speaking with music
The idea of releasing an instrumental album had been on Liang's mind for years and his first instrumental composition was titled Simple Sea, which was recorded for his debut album, Floral Times, in 2007.
"Music without lyrics brings more space in which listeners can use their imaginations. There are many emotional moments in your life that you cannot depict with words but for which music can do the talking," says Liang. "It's a feeling, which is unspeakable and unforgettable."
Born in Beijing and raised by a single father, the 35-year-old singer-songwriter was hooked on music when he first picked up a guitar.
Like the many of his peers, Liang fell for rock music as a teenager and decided to make music as his career.
His father, who runs his own business, hoped his son would work in the field of hospitality, which guarantees a stable and decent life. However, Liang decided to further his musical ambitions by studying at the Pacific Audio Visual Institute in Vancouver, Canada in 1999.
"My life was slow-paced there. Besides study, I had lots of time for walking around and writing my own material. One day, I saw an elderly man playing his guitar in a subway station. His technique, his fingerpicking style of playing, was amazing and I was drawn to his versatile sounds," Liang said.
From that moment, he started switching his focus from rock music to peaceful, honest and expressive compositions.
During his stay in Vancouver, from 1999 to 2003, one of his favorite things to do was walk along the beach. He liked watching the ocean and seagulls, and these later appeared in his songs.
After graduation, Liang returned to Beijing and worked at a record company, where he wrote songs and played guitar for other pop singers.
The job, which he considered to be "less creative", soon bored him, although it earned him a stable income.
In 2008, having gaining a stable fan base via the internet, Liang released his debut album of 10 songs in English that he had written, including the hit, Jimi and Lucy.
His second and third albums, titled I'll be There and Now It's A Brave Time, cemented his musical style and won him more fans.
"I have the habit of collecting music fragments on my phone. Even if it's 2 am, I will get up and play a melody which is lingering in my mind on the keyboard," he said.