Lingering melodies of a singer-songwriter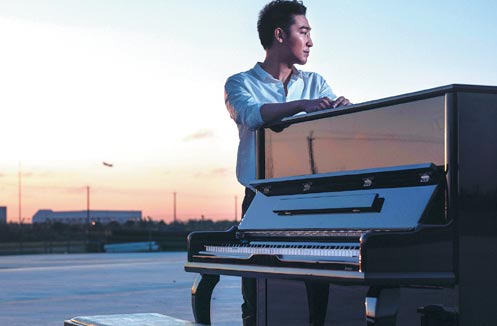 Beijing-based singer-songwriter Liang Xiaoxue finds sharing his personal emotions with people he has never met an amazing experience. [Photo provided to China Daily]
About 10 years ago, Beijing-based singer-songwriter Liang Xiaoxue started releasing his original material via douban.com, a popular Chinese social media platform, and he can still vividly recall how thrilled he was when he saw his songs were being played up to 4,000 times the first night.
"I didn't sleep at all that night. I couldn't help staring at the website. It's unbelievable that so many people listened to my songs and many of them posted reviews," Liang recalled recently, sitting by his keyboard at his home in Beijing. "Music is a private thing for me. When my personal emotions are shared by many people I've never met, it's an amazing experience."
Since then, Liang, like many singer-songwriters, has used social media platforms to reach his listeners and gain popularity.
The 35-year-old Beijing native is known for his narrative lyrics in English, which he performs to the accompaniment of light guitar and piano.
Now, he has about 200,000 followers in total on his Sina Weibo account and douban.com account.
On July 28, the singer-songwriter released his fourth full-length studio album, The View of Hearing, his first album of instrumental compositions.
Many of his fans posted on social media, describing Liang's new album as "comforting" and having a "fresh" sound.
The 10 tracks, featuring Liang on piano, Fu Chao on cello, Zhu Jiaming on guitar and Yao Suo on piano, were composed between 2011 and 2017, with each of the tracks conjuring up images for listeners.
For example, one of the pieces, titled City, was inspired by the windows of his apartment which he saw covered in dew one morning. Another song Blue marks Liang's reflections on his life before he reached the age of 30.
He will soon begin a nationwide tour, and he is performing at outdoor music festivals across the country, including the upcoming Changjiang International Music Festival, which will be held on Oct 1 and 2 in Zhenjiang, a city on the banks of the Yangtze River in Jiangsu province.
"My songs mirror different sides of me. Songwriting is a way of documenting my life, what I see and how I feel. I like sharing these moments with others," he said.