Why poor villagers would rather stay put, than move into new homes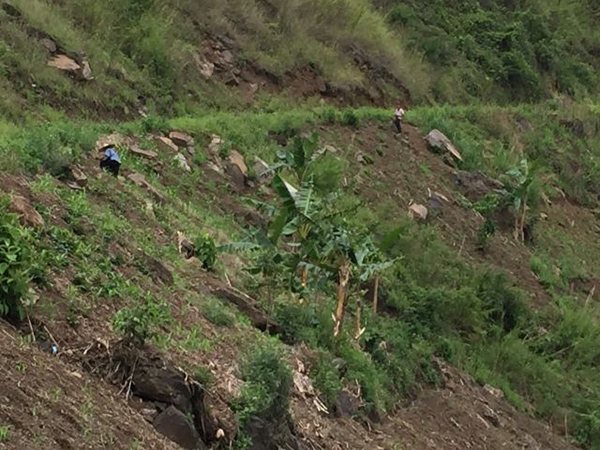 Villagers farm on a steep hillside at Naweng. [Photo/Xinhua]
This creates a daunting challenge for government officials in charge of poverty alleviation.
Wu Jianxiong has been working for the Lurong township government, the lowest level of the country's administration, since graduating from university five years ago. Lurong township has jurisdiction over Naweng village.
To persuade villagers to move to new settlements, Wu said government officials have tried a variety of approaches, including organizing group tours of their new homes and getting those who have already moved to talk about the benefits.
Patience is the key, Wu said. He said cadres would repeatedly try to explain the poverty alleviation policies to the impoverished households because many of the villagers don't understand them well.
He cited an example.
"We have the poverty alleviation fund which is designed to pay for training on living skills for impoverished households. But many of the villagers believe the money in the fund should be handed to them directly," Wu said.
He said the mentality of waiting for help is also a problem.
"Sometimes, we (cadres) are anxious and working hard, whereas the villagers stand aside, waiting for help," Wu said.
For all the obstacles, there are signs of hope.
"In this village, though people live in poverty and have a low level of education, they attach a great importance to education of their children, which is proof of their desire to rise above poverty," Wu said.
"What we can do is to draw the desire out of them," Wei Chuan, the village chief, said.
"Over the past few years, we have introduced cash crops such as passion fruit and pitaya and helped villagers to grow them with low-interest loans from government," Wu Jianxiong said. 
"We hope more young people working out of the village will come back. Though the incomes working at home maybe less than earned in cities, many people have come back because they can take care of the elderly and the children at home," Wu said.