Village renewal began with new crops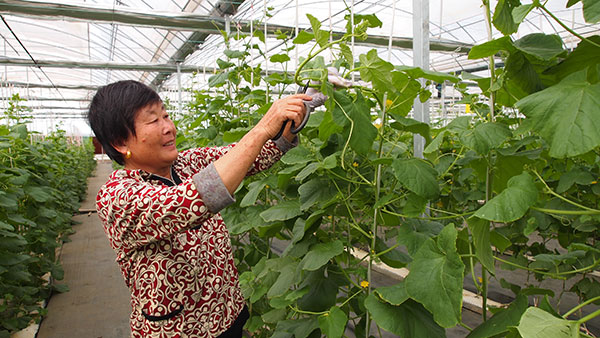 A farmer works in a greenhouse in Gufang village in Huichang county, Jiangxi province.[Photo by Zuo Zhuo/China Daily]
As for the village's forte, fish farming, the council chose to expand the business by merging small fishponds into larger ones with upgraded facilities.
After a plan was sketched out, the council members started raising funds, each borrowing hundreds of thousands of yuan in loans from the bank. According to Zou, the council has so far raised 5 million yuan to build greenhouses, buy seedlings and install facilities.
"There could be some risk, but no one hesitated to invest, because this was the only chance to make our village a better place and we all wanted it to prosper," he said.
Their efforts are paying off. The village is quickly morphing into a modern rural community. It is predicted that new industries will bring in 800,000 yuan in profit this year. And that number will soar in three years when the orchards bear fruit.
So far, 108 households-most of them older villagers for whom work in the city is impractical-have signed contracts with the cooperative.
Zeng Qingjiao is one of them. The 57-year-old from a poor family works in the vegetable fields.
"I work eight hours a day and earn 1,500 yuan a month," she said. "I used to grow rice but could barely support the family, as my husband is disabled. It helps that I now have a stable income."
By the end of last year, all 75 impoverished families in Gufang had been lifted out of poverty.