Village renewal began with new crops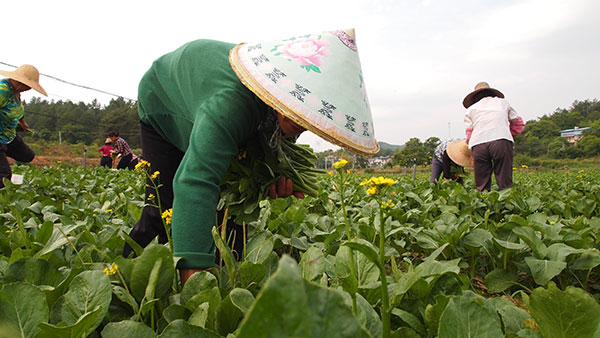 Farmers work in a vegetable field in Gufang village in Huichang county, Jiangxi province.[Photo by Zuo Zhuo/China Daily]
Editor's note: In the run-up to the 19th Communist Party of China National Congress, China Daily sent six reporters to villages nationwide to live for a month and take a look at how people are working under China's poverty eradication plan.
Driving through Gufang village on its 6-meter-wide asphalt road, one will notice solar street lamps, brand-new houses and orchards lining both sides of the road.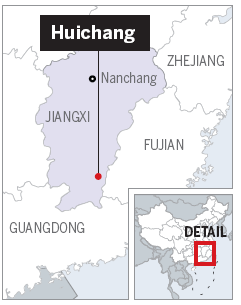 These have all arrived in the past two years, since the village, part of Huichang county in southern Jiangxi province, launched a poverty alleviation campaign.
The narrow road running through the village was upgraded, wasted patches of farmland were leveled, garbage was cleaned out of the nearby rivers and new homes were built for villagers living in dilapidated dwellings.
But the infrastructure isn't the most remarkable thing about Gufang. That honor belongs to its agricultural reform.
For more than half a century, fish farming was the only industry that generated income for villagers, according to Gao Shaohua, an official from Wenwuba township.
Rice was cultivated to make them self-sufficient, he said. "But in recent years, the younger generation has tended to seek opportunities in cities rather than growing rice at home, letting a lot of farmland go to waste."
In 2014, 75 of the 242 households in Gufang were struggling below the poverty line-3,146 yuan ($457) annual income.
Local authorities decided that modern agriculture is the key to eradicating poverty, and an agricultural cooperative was formed in April last year. To draft an industrial outlook for the village, the 12-member cooperative council spent days and nights researching and brainstorming.
"Gufang is on the outskirts of Wenwuba, the county seat of Huichang, which makes it a convenient weekend destination for urban people," said Zou Shirong, head of the council. "Council members agreed that we should create pick-your-own orchards and vegetable farms to lure tourists."
The council also decided to convert less-profitable rice paddies into vegetable gardens to cater to the city's large demand for fresh vegetables.