Hinkley project powers ahead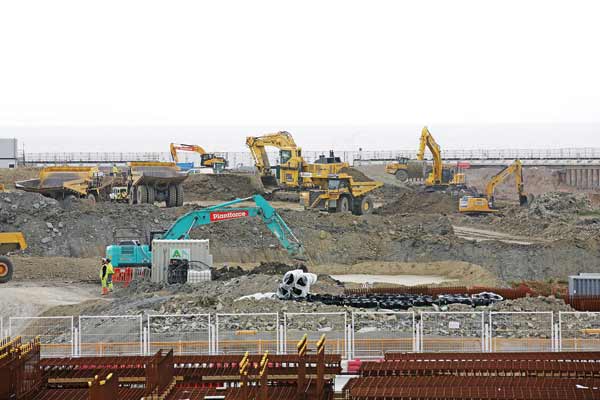 Construction workers and machines are working on 24-7 shifts at the Hinkley Point C site at the moment. [Photo by YIN JINCHENG / CHINA DAILY]
In addition to its significance as a pioneering project pointing to the UK's energy direction, Hinkley bears great significance for China's nuclear industry.
The role that CGN is playing in the Hinkley project "is not a hands-off investor", said Mayson. CGN's contribution also includes its technical and program implementation strength, he added.
EDF and CGN are also collaborating on the Bradwell B nuclear plant, a planned project in Essex in which CGN is the majority investor, and will build with Hua-long Pressurized Reactor 1000 (known as HPR1000)-China's indigenous third-generation technology.
"Our partnership with EDF is a win-win collaboration," said Zheng Dongshan, chief executive of General Nuclear International, the London-based international subsidiary of CGN. "We support them financially and technically at Hinkley, and they will help us to implement HPR1000 at Bradwell."
Tim Yeo, former chairman of the House of Commons energy and climate change committee, said the government's approval of Hinkley shows its strong commitment to nuclear energy and that it welcomes Chinese investment.