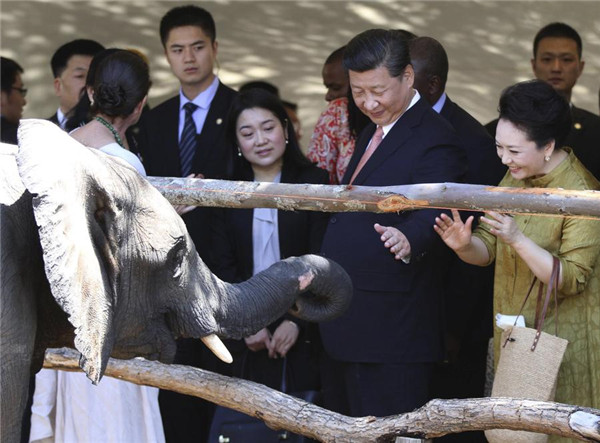 Chinese President Xi Jinping and his wife Peng Liyuan (R) watch an elephant during their visit to a private wildlife sanctuary in Harare, December 2, 2015. [Photo/Agencies]
HARARE - Chinese President Xi Jinping visited a wildlife sanctuary in Harare Wednesday morning before wrapping up a state visit to Zimbabwe, in a show of the country's commitment to wildlife protection.
China attaches great importance to wildlife protection and the country has made remarkable progress in wildlife habitat conservation and breeding, as well as cracking down on illegal trade of wild animals and animal products, including ivory, Xi said while visiting Wild Is Life, a local rescue center that shelters the injured, rescued or orphaned animals.
Xi said China has made great efforts to improve public awareness of wildlife protection and an increasing number of people, as well as organizations from the private sector, are participating in the course.