Chapecoense fans mourn players lost in crash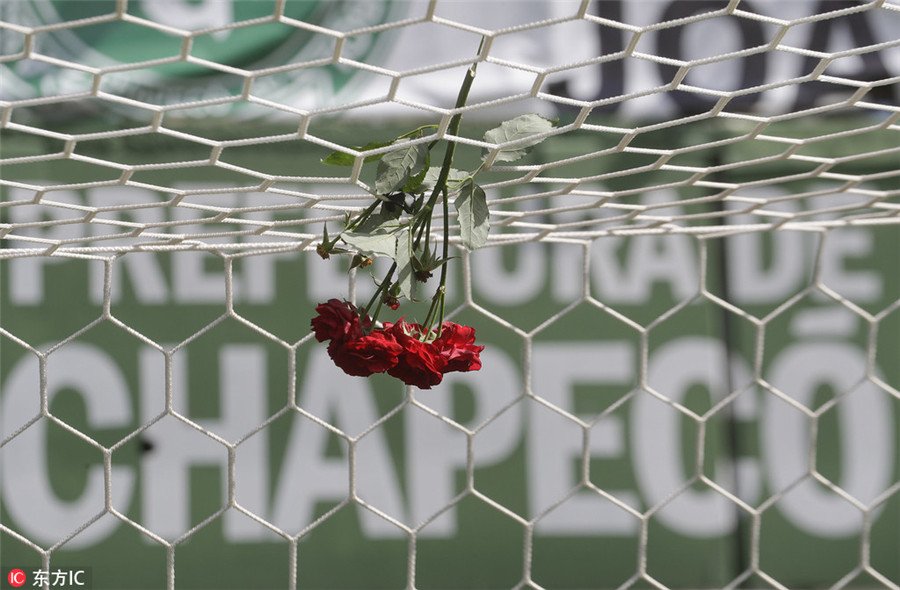 Flowers hang from a soccer net at the Arena Conda stadium in Chapeco, Brazil, Nov 29, 2016. A chartered plane carrying the Brazilian soccer team Chapecoense crashed into a Colombian hillside and broke into pieces, Colombian officials said Tuesday. [Photo/IC]
Team Chairman Gelson Dalla Costa said the club's doctors were traveling to Medellín on Tuesday to collect the bodies.
Three Chapecoense players were among the six people who survived the crash. Dalla Costa said defender Helio Neto was undergoing cranial surgery and reserve goalkeeper Jackson Follmann had a leg amputated. Defender Alan Ruschel was reported in intensive care but in stable condition.
"As you know, in an accident of this scale you can get any kind of news in the first 48 hours," he added, regarding the health of the survivors.
An improvised shrine outside the player's entrance to the stadium filled up with jerseys, flowers and candles.
A poster celebrated, in a child's handwriting, Chapacoense's meteoric rise into top-flight Brazilian soccer: "They never tired of climbing and now they're in heaven."