Chapecoense fans mourn players lost in crash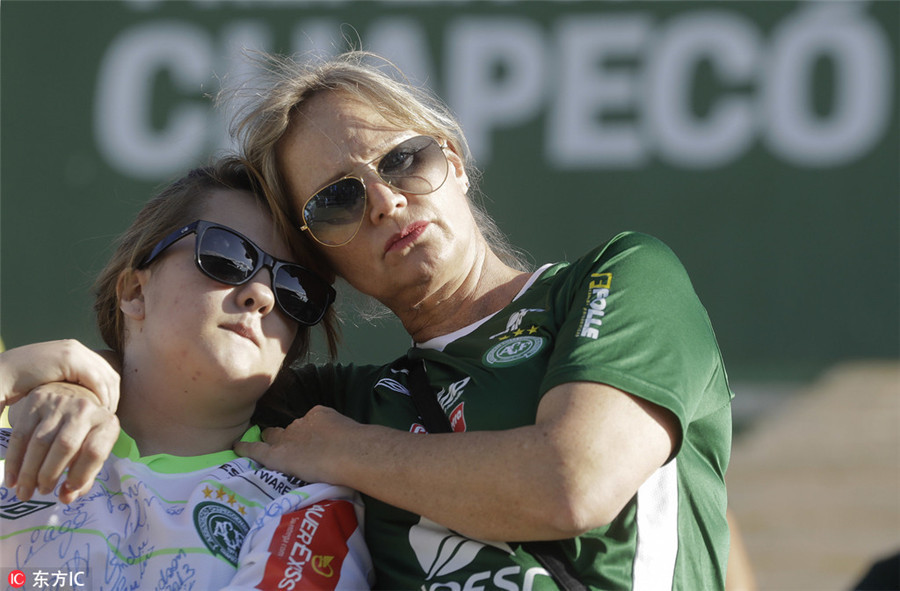 Fans of Brazil's soccer team Chapecoense mourn the death of many of the team's players, as they gather at Arena Conda stadium in Chapeco, Brazil, Nov 29, 2016. [Photo/IC]
Businesses closed, schools canceled classes and the mayor called off municipal Christmas celebrations as he declared 30 days of mourning. A sea of fans filled the streets outside a cathedral downtown for an evening mass before streaming down the road to the stadium.
The tragedy echoed throughout global soccer, but the scale of the loss was staggering in a city where it takes a 10th of the population to fill the small concrete stadium's 20,000 seats.
"This is a little city from the interior, but it felt like we grew along with our team," said Laura Zanotelli, 17, one of more than a hundred fans who gathered in the Chapacoense stands late into the afternoon, consoling each other and praying aloud.
"So many of our players are from here. I would run into them and their families in the street, like neighbors," she said.
Most of the team's players were among the 71 people killed in the crash, Colombian authorities said, as well as local journalists and team officials.
"Our idea is to hold a collective wake here in our beloved stadium because everyone wants to give their support, to give an embrace," said Ivan Tozzo, who became the team's acting president when his predecessor died in the crash.