A fusion of ancient and modern fashion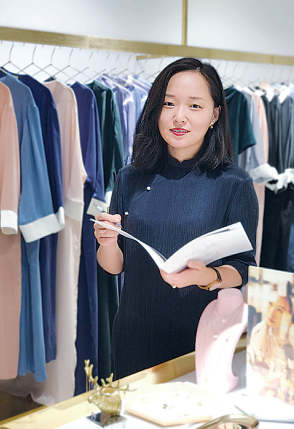 An Shiliu, a co-founder and designer at Danmang. [Photo provided to China Daily]
Bao Mingxin, a fashion culture research professor from Donghua University's fashion and design school in Shanghai, said there are several factors behind the growing trend of wearing Chinese-style clothing today and among them is a sense of national pride that stems from the rapid development of China's economy and its growing stature in the international scene.
Mike Bastin, a visiting professor at the University of International Business and Economics in Beijing and a senior lecturer at Southampton University, wrote in a commentary earlier this year that this trend of combining the old and the new will not be going away anytime soon.
"Nostalgia provides an unfathomable depth of heritage for Chinese designers and should continue to feature prominently in their work, now on display across the international fashion landscape," he wrote.
"A fusion of nostalgia and modern influences should combine to set fashion trends for some time to come, with Chinese designers - often foreign-educated and Europe-based - well placed to contribute richly ... fashion's future is far from clear but what is clear is that Chinese designer influence and Chinese heritage infusion are here to stay."
He Qi contributed to this story.